Five Attitudes of a Rock-Star Dad.
(ThyBlackMan.com) A rock-star is a person who has achieved celebrity status and fanatical admiration in the eyes of his or her followers. There are rock-star musicians, rock-star athletes and rock-star entertainers. In this piece I would like to transfer this 'rock-star' phenomenon to the concept of fatherhood, in particular single-dads.
The last fifty years has seen a veritable explosion of single-dads in American society. According to the Pew Research Center, the number of households headed by a father has increased dramatically – from 300,000 in 1960 to 2.5 million in 2011. Some of these men are sharing custody but a sizable number of them have sole custody.
As single-dads, we can and must become sources of inspiration, guidance and strength in the eyes of our children. In doing so, we can achieve a type of 'rock-star' status as fathers. Rock-star is simply being a rock solid presence.
What are the attributes of a single-dad who has achieved such a status in the eyes of his child(ren)?
As a certified holistic life coach, I believe attittude is the most indispensable predictor of whether a dad can and will remain a positive force for his kids. It's all connected to what Earl Nightingale describes as "the composite of our thinking, our attitude and our actions." Here are five attitudes that we as single-dads must adopt if we are to become rock-star dads.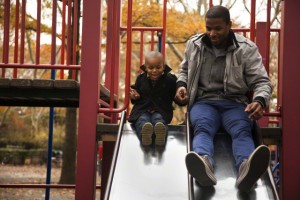 Attitude#1
Tap Into Our Personal Power
A rock-star dad relishes his personal power. This is the foundational attitude of a strong, positive dad. It's not neccessarily an attitude one is born with, rather it is a learned quality. To realize that you have power to move mountains, and that you have the means to create the cause that will usher in the effects which you desire is the greatest feeling a father can have.
We are in possession of such power! Even more important, realize from whence this power flows– from our relationship with a Higher Power. It's bigger than us, brothers!
Attitude#2
Develop A Father-Child Values Statement.
You achieve rock-star status when your child knows you stand for something. A values statement is an excellent way to stay connected with your children. I have instituted this action with my own eight year-old son with enormous success. For me, a values statement represents a guiding set of principles for the manner in which we wish to relate to one another as father and son.
Determine, along with your child(ren), what values most accurately describe your relationship. Be sure to allow them to actively participate. Write those values down. Ensure the child has a copy. Reinforce them with the child on a consistent basis. Remind them constantly what the values mean.
Attitude#3
Be Present When We Cannot Be In Person
A rock-star dad makes positive impressions whether he's there or not. Transportation, job requirements, finances and conflict are just a few of the factors which prevent a lot of single-dads from actually spending quality in-person time with their off-spring on a consistent basis.
If you cannot be in-person all of the time, seek to master your presence. Phone-calls, text messages, and cards are a few ideas that can work toward keeping you connected. It does not mean you rely on this type of communication alone. Rather, it's an extension of who you are and what you represent as a father.
Attitude#4
Don't Be Afraid To Ask For Feedback
Do not fear the question "How am I doing?" The rock-star dad is not afraid of improving himself as a man and as a dad. The empowered father is appreciative of feedback from his child(ren); he is not afraid to hear of those areas that, according to his children's perspective, he should aim to become better. The feedback I receive from my eight year-old son during my "tell-me-what-I-can-do-better" chats with him is priceless.
Depending on their age group, you may hear everything from 'call me more' to giving simple advice like "what's the best way to ask a girl out on a date?" Whatever the feedback, learn from it!
Attitude#5
Strive To Be Faithful Rather Than Successful
Rock-star dads are committed dads. I do not know of many 'successful' dads in my coaching practice. The ones who are successful are the fathers who have managed to remain faithful and positive in the execution of their duties in spite of personal challenges and in spite of co-parenting communication issues. To paraphrase Brian Tracy, they have a unique ability to manufacture their own positive expectations.
What I have discovered in my own experience as a dad is that the more we appreciate the moments with our children, the less the obstacles and challenges matter. Quality time breeds faithfulness!
Single-dads can and must become sources of inspiration, guidance and strength in the eyes of their children. In doing so, we achieve a type of 'rock-star' status as fathers.
Better men. Better fathers. Better communities!
Staff Writer; W. Eric Croomes