There's Nothing Wrong With the Success of Straight Outta Compton.
(ThyBlackMan.com) It's almost the weekend. Which means it's almost date night for some couples, or singles who like to treat themselves. And if you're a typical couple, or single who likes to treat themselves, dinner and a movie, say Straight Outta Compton (if you haven't already seen it) may be in order this weekend.
Right now Straight Outta Compton is enjoying it's second week at the top of the box office. The biopic on the rise, drama, fall and reunion of N.W.A. was a surprise success after it's first weekend when in brought in $56 million. Its continued success continues to baffle some Hollywood heavy hitters who are always surprised by the success of a Black film, purposely released on a limited number of screens across the country, and that isn't a film by everyone's favorite writer, director, producer, distributor Tyler Perry.
The continued commercial success of Straight Outta Compton doesn't surprise me. For starters, more than Black people enjoy rap music. Furthermore, Ice Cube is now a pop culture icon not just a rap legend, and Dr. Dre is a businessman first a beat man second. For me Straight Outta Compton's success was expected, but with the film's success came the criticism. In the Black community, that criticism was launched against the movie before the film was even released.
One of the main criticism's I've heard, and continue to hear, about the film is that it glorifies violence and misogyny and glosses over Dr. Dre's brutal history as a woman beater. In the film Dr. Dre is portrayed as an all around good guy, an expected portrayal seeing as how Dre is one of the executive producers. Suge Knight is portrayed as the ultimate villain, a role that considering his current murder charges is fitting. Dr. Dre's abusive history can not be denied considering the police reports filed against him, the stories from countless women who were on the receiving end of Dre's brutality,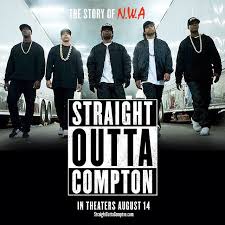 and the confessions from Dre's former girlfriend turned R&B Diva Michel'le.
Another key criticism against Straight Outta Compton has been from the old guard of civil rights activists that the success of movies like Straight Outta Compton glorify violence in the Black community and don't allow Hollywood, or the American viewing audience in general to see another side of life for Black folks. The criticism that movies like Straight Outta Compton are akin to blaxploitation films of the 70s. This is the criticism I have the biggest issue with. It is not Dr. Dre or Ice Cube or F. Gary Gray's fault that Straight Outta Compton is a commercial success. It is not the fault of the creators behind a successful "Black film" that other Black films aren't received with the same commercial and critical success. This is a problem with Hollywood.
I saw Straight Outta Compton in Chicago during opening weekend. After seeing the film, my mother and I, listened to commentary about the film on an African-American talk radio station where callers derided the violent film, and those who saw it, for contributing to the perpetuation of stereotypes in Hollywood against the Black community. My mother agreed with the callers. I did not. It's not that there aren't other Black films with other storylines to be seen, it's that they aren't as highly hyped as Straight Outta Compton. If you look at the straight to DVD offerings of "Black films" on Netflix you'll know that there are filmmakers of color making and creating films with story lines that involve love, familial conflict, and other story arcs outside of violence. One movie I recently watched was Ava Duvernay's Middle of Nowhere. Ms. Duvernay is most known for Selma. A critically acclaimed movie documenting the infamous civil rights march and Dr. Martin Luther King Jr's role in that film. A film that was made a success on the name of Oprah alone; much like the success of Lee Daniel's The Butler.
When the argument is made that Black people should not support a Black film because of inherently violent, or misogynistic or disparaging content toward Black people, I say look at white films. Those critiques and suggestions don't exist. If you go see a film with a predominantly white cast, their films are as violent as they are misogynistic as they are funny as they are loving. There is no box that "White films" must fit into be seen as acceptable to the White community because all parts of the White experience is told freely without constraint. That commercial appeal no matter the content is afforded to them through White privilege. Black people need to get to that point. Silencing one filmmaker's point of view about one part of Black culture does not get "Black films" to a point of commercial acceptance without constraints no matter the content.
Dr. Dre is a woman beater, but that is no reason not to see Straight Outta Compton. The film is violent, glorifies gangsta rap, drug dealing, misogyny, and objectifies women, but that is no reason not to see Straight Outta Compton. In fact just the opposite reason exists. Straight Outta Compton is a film that deserves to be seen even if it the subject matter is viewed through a critical lens. If you feel some kind of way after watching Straight Outta Compton then make sure you see and seek out to see other Black films to balance the view of the scope of Black culture. Let Hollywood know once again that the Black dollar is bankable.
It's been more than a decade since films like Love Jones, The Best Man, The Wood, The Brothers, Love & Basketball, Brown Sugar, Two Can Play That Game, and Deliver Us from Eva found commercial success in Hollywood. It's time for that once a decade resurgence of Black films that show all facets of Black life and culture and maybe Straight Outta Compton is just the film necessary to usher in that resurgence, and firmly implant a foothold in Hollywood so that Black films are found frequently between the Friday releases instead of few and far between.
Staff Writer; Nikesha Elise Williams
Twitter; http://twitter.com/Nikesha_Elise
FB; http://www.facebook.com/NikeshaElise