Are There Really Enough Hours In The Day?
(ThyBlackMan.com) According to the Bureau of Labor Statistics' American Time Use Survey, citizens over the age of 15 spend nearly three hours watching television daily. I believe the BLS number to be a little low from my own life experiences with television watching. For example, a sporting event is at least three hours long. I have been in numerous homes where there are televisions constantly blasting all day, many times without a viewer in sight. Another study done by Nielsen, a company that tracks consumer behaviors, found that adults spend 5.4 hours consuming television each day.
Now let's look at social media. According to new research released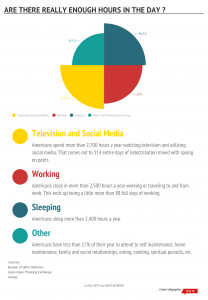 by Ipsos Open Thinking Exchange, Americans dedicate an average of two hours per day to social media. Between television and social media, this adds up to 7.5 hours spent staring at a screen. This does not include video games, for all the Madden and Call of Duty addicts. That is 2,737.5 hours of television and social media consumption yearly. That is 114 entire days, 24/7 of watching others' lives on television or spying on peers on social media. That comes out to nearly one-third of the year spent on these activities.
According to Gallup polls, the average American sleeps 6.8 hours. This will come out to 2,482 hours or 103.4 days of sleeping per year.  Gallup also states that the average American works 47 hours a week, which equals 9.4 hours day, 2105.6 hours a year,  87.73 days a year working. We spend an average of 304 days just working, sleeping, and being entertained. That is 83.4 percent of the year, only leaving us small fraction of our time for self-upkeep, relationships, family, self-reflection, personal growth, and all other domestic task needed to function within our society (hygiene, cooking, cleaning, home maintenance, etc.)
Looking at the numbers can be pretty distressing. Most of our time as Americans is spent either at work or being entertained, with a bit of time left over for sleep. I guess this is why so many Americans are depressed; medicating themselves with consumerism, illegal and legal narcotics, alcohol, and any other thing that numbs the pain of the life we live.
Staff Writer; Linton Hinds Jr.
Official website; http://Livity.info/