Book Release; Brotha2Brotha: Becoming Healthy Men from the Inside Out.
(ThyBlackMan.com) In 2010, author W. Eric Croomes' life changed dramatically. He became a dad again. Croomes had become a father for the first time at a very early age in his life. He was twenty-two years old and didn't know what fathering a child meant. Now older and wiser, Croomes wants to learn from his fatherhood experience and reach out and help other dads. In 2011, he formed Their Eyes Were Watching Daddy, a non-profit single-dads' support group.
Croomes is using his 2006 published book Brotha2Brotha: Becoming Healthy Men from the Inside Out as a textbook to help single-dads understand the importance of living a holistic lifestyle. Croomes' coaching and mentoring philosophy is that dads must focus on becoming better men; they will then become better fathers. Following is a review of Brotha2Brotha, posted in 2006.
Brotha2Brotha: Becoming Healthy Men from the Inside Out by W. Eric Croomes provides a clear roadmap, complete with biblical references, to help African-American men of all ages contend with the forces that can keep them from achieving their personal best.
Brotha 2 Brotha takes on several perspectives as it examines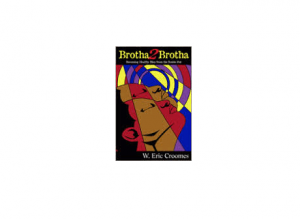 obstacles unique to black males in our communities. Its approach is not only biblical, spiritual and philosophical; it most importantly offers practicality in getting to the heart of the matter.
Historically, literature and self-help books dealing with problems unique to black males have looked to external forces such as legal and social constraints as the root cause of various problems.
A rigorous self-examination, according to Croomes, is the essential foundation for making true progress in this life.
Croomes examines in great depth the relationship of David and Goliath to illustrate how mountains can be moved and wars can be won by mastering one's self. The one aspect of his book Brotha2Brotha I found most striking are the guidelines he sets forth in his checklist for survival, as survival is the all-important first step in reaching higher ground.
I highly recommend this book to both men and women, but particularly to men's groups, pastors, educators and parents as a means of facilitating meaningful dialogue and action on both the personal and community plane to improve the lives of black men and society as a whole.
Chandra Adams
Northbay Media Review
W. Eric Croomes is founder and chief executive coach of Infinite Strategies LLC, a coaching firm that develops and implements strategies for fitness training, youth achievement and lifestyle management. Eric is an author, fitness professional, holistic life coach and motivational speaker. His two books, Dance in the Dark, Poetic Reflections on Love and Culture (The Apple Tree Group, 2002) and Brotha2Brotha, Becoming Healthy Men from the Inside Out (The Apple Tree Group, 2006), were nominated in 2007 for a literary award and deal primarily with relationships, personal achievement and empowerment. He is also a contributing author to the book No Glory Without a Story, released in May, 2010.   Life's A Gym: Seven Fitness Principles to Get the Best of Both is Eric's third solo effort and will be released as an eBook in 2015. Eric is also founder and director of Their Eyes Were Watching Daddy, a non-profit empowerment and support group for single-dads.
Purchase Brotha2Brotha, Becoming Healthy Men from the Inside-Out here:
http://www.infinitefitnesscoaching.com/#!blog/cmz1
Visit Eric at http://www.infinitefitnesscoaching.com
Media Inquiries Contact Info:
Cell: 214.493.2875
Email: wericcroomes@live.com
Facebook: Wayne E. Croomes and Americas Life Trainer
Twitter: http://Twitter.comLifeTrainerEric
Publisher: The Apple Tree Group
Type: Non-fiction trade cloth
Price: $10.00