Kenya Moore the Doppelbanger.
(ThyBlackMan.com) Whenever someone claims that they cannot find a suitable mate to settle down with, in many cases, they suffer from an undiagnosed clinical condition known as doppelbangerism. This mental abnormality is when a person only wants to have relations with someone that looks just like them but isn't related.
Clearly, in addition to a myriad of other undiagnosed psychosis, Kenya Moore suffers from this ailment.
Recently she has lamented, very publicly, that she is single because, in spite of all of her craziness, black men are all either in jail, are gay or possess some other condition that isn't conducive to maintaining a relationship. And while she may not be the first black woman who has made this claim, she is one of the most recognizable.
Frustration can cause people to say some pretty outrageous things. Obviously, after several very public break-ups and admitted dating faux pas she is feeling the cold underbelly of solitude. For a woman as physically attractive as she is it would seem that there would be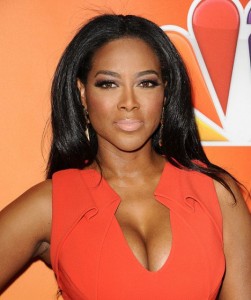 an endless supply of high caliber men to choose from. Indeed she has access to a certain class of man that many women don't have. Indeed a man, given her very public persona as being somewhat psychologically unstable, knows what he's getting involved with when he attempts to date her.
So, what's all the fuss?
What Kenya Moore and many women just like her have succumbed to is the post-modernist view of love which is highly subjective, has no real historical antecedent and is highly, if not fanatically so, individualized. In other words "everyone should be in love with me the same way that I am in love with me."
This narrative is played out daily in the media as this new existentialist trend of human emancipation devolves into its most nihilistic form. In effect we become our own god (little g, not big G. The big G God is reserved for the beneficent Santa Claus figure in the sky who gives expensive gifts a Christmas.)
The problem with becoming your own god is that the only response that makes sense, as is evident by her statement that "it's not my fault", is the unrestricted praise of everyone around you. Without that praise you feel, well, ungodly. Once steeped in this level of delusion the only response that you can have when unending praise doesn't occur is that there must be something inadequate about everyone else. The problem could never be you.
Unfortunately this is the psychotic world that Kenya and those like her live in.
Let's face it, very recently it has been proven that the right hairdresser, makeup artist, lighting designer, wardrobe and photographer can make anyone look like an attractive version of a female. By relying solely on the exterior popular culture has successfully eroded what it means to be a true woman. It is this fact that replaces her narrative as to why she's all alone, and that is men, good men, are looking for something intrinsically female.
And exactly what is this intrinsic otherness that men are looking for? It's definitely not a one size fits all scenario. Whatever it is, Kenya Moore and those like her surely don't' possess large quantities of it. They have sold their souls to the altar of an unsustainable model. Ultimately they will age, their bodies will change and there will be some new hotness that inevitably will take their place. By relying solely on the exterior they have painted themselves into a rapidly collapsing corner.
Men may be dumb about a lot of things, but being dumb and being stupid are two different things. That being said, no one will want to make her "wifey" for a sustained period of time. Moore and the rest of the doppelbangers out there (of which there are plenty of men as well) always eventually crash and burn.
But to her new resolve a hearty "don't look back" is in order. Black men and all men for that matter are better off without you.
Staff Writer; Steven Robinson
May also visit this talented writer over at; http://noroomtowiggle.wordpress.com/.