CD Release; G Von Che' I The G Spot.
(ThyBlackMan.com) G Von Che' is a rapper/poet/actor performing in the South Florida tri-county area of Miami-Dade/Broward/ Palm Beach.
G Von Che' was born in Queens, New York City. Relocating to Florida to further his career in entertainment, the Queens native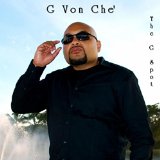 blends the streets with the sun. Whether it's a club banger, music for the heartbroken or the 9-5 struggle, G Von Che's aggressive subject matter is Red Bull for your MP3 player.
Released on April 24th, G Von Che's debut album, The G Spot is a unique blend of Hip-Hop, Pop and EDM (Electronic Dance Music). In today's musical climate, what sells is nonchalance. G Von Ché successfully goes in the opposite direction and brings back the profile of the rough rapper that doesn't feel it's unmanly to do a two-step.
"Cool" video:
Track Listing:
Cool
Say So
Do You Know What I Mean?
Deal Wit It
Psycho
Work 2 Do
Cool (Radio Version)
One may purchase the CD over at Amazon: G Von Che – The G Spot.
The album can also be found on iTunes:
https://itunes.apple.com/us/album/the-g-spot/id985978737
Official Website: http://www.gvonche.com
Twitter: http://twitter.com/gvonche
Email: gvonche@gmail.com