5 Creative Ideas for Kitchen Remodeling.
(ThyBlackMan.com) Kitchen remodelling is a demanding challenge. It requires detailed planning and basic interior design knowledge. Kitchen should be not just attractive, bright or stylish. It should, first of all, be functional and spacious enough to accommodate the whole family and numerous utensils used in the kitchen. In other words, eating and cooking here should be comfortable and enjoyable.
These 5 creative ideas for kitchen remodeling by SF construction company will help change the look of your kitchen for better.
Experiment With Colors
Do not be afraid using unusual colors. Not only bright colors, like green, red or orange can give your kitchen a special charm. Grey is also a perfect choice, if you want something unusual, however do not risk experimenting with glaring colors. Of course, not all elements of your kitchen should be of grey shades. Just opt for grey cabinetry, window shades and silver hardware finishes. Marble-look counters and mosaic stone tile will make a perfect addition to your grey theme.
Cottage Kitchen
If you live in a big city, you may design your kitchen in a cottage style. Cottage kitchen looks very cozy and warm and will help forget about a quick pace of living of a big and bustling city. One of the main attractions of a cottage kitchen are oversized windows that invite lots of sunshine. Light ceramic subway tiles and walls will look perfectly with a dark wooden floor. A combination of light and dark colors make any kitchen area look very atmospheric.
"Unfinished" Kitchen
This unusual design was invented by a famous designer Cisco Pinedo. The main concept of such design is the absence of knickknacks. Such minimalism gives each item a special meaning and sense of importance. For his own kitchen Cisco Pinedo used natural materials,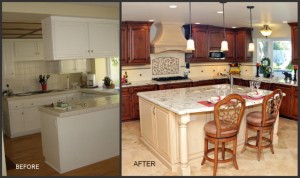 like cupboards made of unfinished wood and counters made of recycled granite. "Unfinished kitchen looks stylish and unconventional.
Take Advantage of Open Shelves
Open shelves will not just make your kitchen look more interesting and unusual, but will also give additional storage place, which is undoubtedly a great advantages, especially if you have a small kitchen. This designer decision will also make items you use daily easier to reach. Just add a few open shelves near the sink or cooking area and you will feel the difference the same day.
Slotted Cabinets
Another good way to increase storage space and make a kitchen more functional is to use cabinets with narrow, vertical slots. Unlike traditional drawers, slotted cabinets are an ideal choice for storing flat items like cookie sheets or baking pans.
With sf remodel construction, kitchen remodelling will go a lot quicker and easier. This company offers the best building and remodelling services in the San Francisco Bay Area.
Staff Writer; Fred Jackson