Cornel West Responds To Michael Dyson Take-Down.
(ThyBlackMan.com) In response to Michael Eric Dyson's scathing take-down, West issued what must have been the shortest comment of his career – probably because Dyson was so thorough in his take-down that it didn't leave West much room for a defense. But even what he did say was so delusional, self-serving, and disingenuous that it ventured into the realm of other-worldliness. One of the things that West said was the following:
.
"Character assassination is the refuge of those who hide and conceal these issues in order to rationalize their own allegiance to the status quo."
.
What!!!!!!?  West either doesn't even bother to listen to his own rhetoric, or he's been in a somnambulistic trance for the past 6 years. He's never seen a high-profile BLACK person who overshadows him whose character he didn't want to assassinate – he tends to give White folks a pass.  Have you ever heard West say ANYTHING, other than a casual passing remark, regarding the impact that Republican obstructionism is having on poverty?  I don't think so.  And is West doing ANYTHING to inform the public that the United States Constitution gives the United States House of Representatives SOLE power over spending, so anything that President Obama wants to do for the poor and middle class he has to get the Republican controlled House to go along with him?  No he is not. He's trying to give the public the impression that President Obama is KING Obama, and why? – in an attempt to assassinate the President's character (http://wattree.blogspot.com/2012/11/what-has-obama-done-for-poor-and-middle.html).
.
And finally , West is more disingenuous than any demagogue in the public sphere. He tried to paint President Obama as an ingrate for not giving him tickets to the inaugural. If you'd like to know why he didn't get tickets, just watch West "in concert" below, and then ask yourself, would you have given him tickets?  He has to be a complete egomaniac to even EXPECT the President to give him a pass on some of the things that he said:
CORNEL WEST IN CONCERT
.
BEFORE THE ELECTION
AND CONSIDER THIS – EVEN AS CORNEL WEST WAS ASKING OBAMA "WHERE'S YOUR MONEY COMING FROM?" IN THE VIDEO ABOVE, TAVIS SMILEY (HIS GOOD BUDDY AND CLOSEST ASSOCIATE) WAS INVOLVED IN THE WELLS FARGO "GHETTO SCAM," WHICH, ACCORDING TO THE DEPARTMENT OF JUSTICE, WAS THE SECOND LARGEST HOUSING DISCRIMINATION CASE IN THE NATION'S HISTORY, AND CAUSED 30,000 POOR AND MIDDLE CLASS MINORITIES TO LOSE THEIR HOMES AND LIFE SAVINGS.  WELLS FARGO SETTLED THE CASE FOR  $175 MILLION.  BACK THEN TAVIS SMILEY WAS RIDING HIGH, SO NOTICE HE AND CORNEL'S ARROGANCE, AS THOUGH BARACK OBAMA HAD AN OBLIGATION TO COME AND GET THEIR BLESSING TO RUN FOR PRESIDENT. ALSO NOTE THAT NOW THAT SMILEY HAS LOST POPULARITY, WEST HAS CUT TIES WITH HIM, EVEN AFTER REMAINING CONNECTED AT THE HIP (AND WITHOUT OPENING HIS MOUTH) DURING THE WELLS FARGO SCANDAL. 
.
ornel West spews more racist rhetoric than any Republican in America. The reason for that is he's essentially an entertainer who specializes in shock and race-baiting as his one and only routine. Clear evidence of that is he's over the top in everything that defines him – he's over the top in his personal image, in his overly gesticulative presentation, and his rhetoric is invariably inflammatory. Everything about him is a contrivance that's specifically designed to bring attention to himself. The actual issues are meaningless to him. They're nothing more than a platform to launch his performance. In short, Cornel West is the Liberace of faux intellectualism.
.
Have you ever noticed that nearly every public pronouncement that spews from the mouth of Cornel West is literally dripping with racial innuendo? One of his latest racist slanders is that MSNBC is the 'Rent a Negro' network. West has said at various times the following:
.
1). President Obama is "a war criminal."
2). President Obama is "a black mascot of Wall Street oligarchs . . ."
3). President Obama is "a black puppet of corporate plutocrats."
4). President Obama is "a Rockefeller Republican in Blackface."
5). President Obama "has a certain rootlessness, a deracination."
6). President Obama Is "Afraid Of Free Black Men."
7). President Obama is "a global George Zimmerman."
8). Dr. Harris-Perry is "a fake and a fraud"
9). Dr. Michael Eric Dyson "is a sellout."
10). Al Sharpton "is a sellout."
11). MSNBC is the "Rent a Negro Network."
12). And if that's not enough, now he's quoted as calling the first Black President of the United States "a shell of a man."
.
Yet, when comedian Steve Harvey called him an Uncle Tom, he said, "When you are trying to talk about issues that affect the people, name calling gets in the way. Name-calling is nothing but another weapon of mass distraction."
.
So name-calling is only objectionable when it's directed at him. Such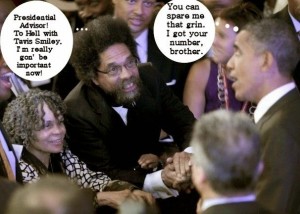 unmitigated hypocrisy is mind boggling – but for once, he's right. Not one of the above assertions is a disciplined, constructive, or scholarly assessment of the facts. On the contrary, they're the reckless and intellectually undisciplined rants of a bitter, self-serving, and severely discredited academic fraud.
.
For Cornel West, there's something 'racially defective' about every Black person who has the audacity to preempt Cornel West from the limelight. West has a propensity for trying to denigrate the character of people whose been in the trenches for years, while West, himself, has done absolutely nothing beyond running his mouth. In order to gain clear evidence of that fact one simply has to ask oneself, what efforts have Cornel West made to try to improve the plight of the Black community?
.
1
). Is he in the community teaching 3rd grade to help ensure a better education for our children, or teaching at an Historically Black College or University to help "enlighten" young Black students?
.
No. He's never taught at a school that more than 1% of Black students can even afford to have lunch in throughout his entire career. He'd rather gain props for teaching the children of the economic elites, who he CLAIMS, is the enemy, whenever he MANAGES to do a "Drive-by" in the hood.
.
2
). Is he in the community teaching our young men to cherish, honor, and respect our Black women – the very womb of our culture?
.
No. He's out trying to sell books filled with inane and misleading information, doing $30,000 an hour speeches, and trying to become a hip hop star.
.
3
). Is he advising his good friend and business partner, Tavis Smiley, to be consistent with his sermons by being "accountable" to the community, and returning the money that he made on the Wells Fargo "Ghetto Scam" loans that he helped to herd over 30,000 poor minorities into? Or is he out getting arrested in support of the Black Friday Demonstrations against Wal-Mart, the most prolific abuser of poor workers in the world?
.
Nope, not a peep.
.
What kind of true Black man is going to disrespect a sister (Melissa Harris-Perry) – IN PUBLIC – by calling her a "liar and a fraud?" That's not a proud Black man; that's a petulant and self-serving punk who doesn't even have sense enough to respect the very WOMB of his own culture. He would NEVER have said that about a White woman.  That poot-butt needed to be taken down – AND PUBLICLY!
.
Cornel West is one of the two most hypocritical gasbags that the Black community has ever produced. He's running neck and neck with Tavis Smiley.
.
Tavis Smiley and Cornel West Ducked The Walmart Demonstrations . . . AGAIN!!!
http://wattree.blogspot.com/2014/11/tavis-smiley-and-cornel-west-ducked.html
.
Staff Writer; Eric L. Wattree