Eminem The Marshall Mathers LP2, 2015 Shady XV and beyond..
(ThyBlackMan.com) While people fawn over rapper Iggy Azela, more than likely in particular because she is a woman and white, and the moves she is making in the rap world, it seems many have forgotten about the Detroit native that initially took the traditionally black hip hop world by storm more than 15 years ago.
Eminem (Marshall Mathers III) was the first white rapper to be taken seriously for his talent and not for the novelty of being white. He is arguably considered one of the best rappers in hip hop history and for good reason. Eminem dominated the first part of the 2000s leading off with a comical first single, "My Name Is," followed by other albums so personal, the songs made you noticeably uncomfortable.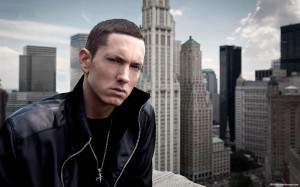 Eminem was one of the first to have an alter ego with his Slim Shady moniker which he says just popped into his head one strange day while he was having a bowel movement (funny guy). He was able to bypass the color barrier in hip hop at the time by paying his dues in the most authentic manor possible –battling. His constant battling eventually brought his music to a seminar in Los Angeles where even though he lost the battle he caught the eye of Dr. Dre. At the time, Dre was working with a female rapper named Eve and had recorded a song with her called "Eve of Destruction." After working with Eminem and recording "My Name Is" he forgot all about Eve (who eventually went on to find success with Ruff Ryders) and focused all of his attention on his new prodigy.
Since then, Eminem has solidified his place in rap history and has been responsible for bringing some of the hottest names in hip hop to mainstream including Queens, New York rapper 50 Cent. Eminem believes the story behind the music is just as important as the music and that's what he heard in 50's lyrics.
While Eminem's momentum seemed to have slowed due to the loss of his best friend, D12 member Proof at the hands of Detroit gun violence in 2006, he has never stopped being the dope artist that he is. Nonetheless with this year's Grammy win for best rap album for The Marshall Mathers LP2, Eminem back at the top of his game.
Staff Writer; Jacob Jerry