Is Beyonce Pregnant 2015, Instagram baby belly bump?
February 21, 2015 by Staff
Filed under Uncategorized
(ThyblackMan.com) For months now, Beyonce and husband Jay Z have been fending off rumors that she is pregnant with the couple's second child. Not only does the couple themselves deny the rumors Beyonce's former band member Michele Williams, has also been stating at every possible opportunity that Beyonce is not expecting. She even went so far as to say that when Beyonce was pregnant with her daughter no one believed that she was and that people needed to stop speculating whether or not Beyonce pregnant is true.
Though Beyonce and Jay Z have vehemently denied the rumors, she keeps doing things that cause people to question the truth. A recent photo that Beyonce posted on her Instagram account showed her at the beach covered in sand, and allegedly attempt at covering her perceived belly bump. Four months before this picture was taken, Jay Z is said to have given a hint during a concert performance where he changed the lyrics of his song from "I replace it to another one" into "pregnant with another one."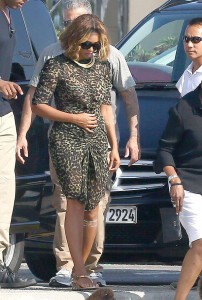 Recently Beyonce was photographed on vacation in Cambodia wearing clothes that fit her loosely, contributing to the pregnancy rumors. Shortly after, she and Jay Z attended a basketball at the Barclay's Center where others in attendance noticed that Beyonce was wearing black (known to have a slimming effect on one's appearance) and that her belly bump was sticking out over jeans. She also reportedly wore a full length coat the entire time she was in the arena.
In January Beyonce was spotted out to dinner with Jay Z at a West Hollywood restaurant and was reportedly wearing a baggy dress that was vastly different from the tight dresses she is usually seen in. In another instance she was spotted at a sushi restaurant with her husband and daughter wearing an outfit with a loose top to it. She also had a sweater tied around her waist to block the view of her stomach.
The rumors of Beyonce pregnant has been coming and going since 2103 when the E! Network stated that a rep for the singer had confirmed to them that her belly bump was real. At that time the rumors were fueled by the fact that Beyonce cancelled a scheduled concert in Belgium claiming she was too exhausted and dehydrated to perform. A week before the cancelled concert Beyonce was also the subject of pregnancy rumors when she appeared at a New York gala in a custom made dress with a cinched waist. She helped fuel the rumors at that time by stating during an interview with Good Morning America that she wanted a larger family and that her daughter needs company.
Whether the rumors are true remains to be seen. The media and Beyonce's fans will likely continue to perpetuate and believe the rumors that she is pregnant, whether she actually is or not. Time will tell if the rumors ever come true or if they are all rumors in vein.
Staff Writer; GossipGal