Beyonce pregnant 2015, baby belly bump again.
February 19, 2015 by Staff
Filed under Uncategorized
(ThyBlackMan.com) Is she or isn't she? This seems to be the way the story goes when Beyonce's name is mentioned here lately. If we are not talking about the way she stole the show from Ledisi at this year's Grammys, we are wondering, "Is Beyonce pregnant again?" We search through scores of pictures online comparing Instagram posts from May and November in the hopes that we can decipher a belly bump.
Part of our infatuation of needing to know is Beyoncé pregnant comes from the star herself. You know I miss the days when she was timid and humble and didn't really seek for attention. Today, it seems she can't get enough attention and is willing to even throw clues, hints (whatever you want to call them) our way in order to have us fawning over an alleged baby bump.
Now don't get me wrong, I love me some Beyonce just as much as the next diva, maybe even more, but I can't dismiss the superstar's ways that she so obviously puts on display.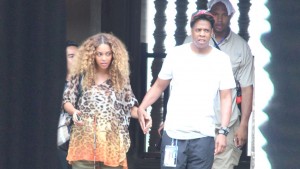 Is Beyonce pregnant, with a boy no less, (that's the rumor that seems to be going around)? Probably not. The reason for this conclusion is because Beyoncé may lead us on for a little bit, but she will eventually come out and tell us and as long as we have been asking, "is that a belly bump" she would have either been showing by now or had the baby.
"Well what about the picture on the beach when she was covered in sand, that looks like a baby bump Blue was making?" While it is understandable how and why people would interpret that as Bey and Jay announcing they are expecting another bundle of joy, it is still not enough proof for the Bey Hive to start planning a global baby shower.
As a fan, I would love for Beyonce to be expecting. It is a precious thing and how you continue your legacy on this earth. And in all honesty, after her world tour and the On the Run Stadium Tour, she and Jay really don't have to work (pretty much for the rest of their lives) so they would have the time and energy to devote to a little one.
Alas, we will all have to wait and see.
Staff Writer; LadyK
Gossip/Ent. Tips and Feedback to; LadyK@ThyBlackMan.com