Music 101: Spending To Be A Rapper vs Investing in a Rap Career.
(ThyBlackMan.com) Last week I said that I'd give alternate suggestions to buying features and explain the "philosophy" behind major labels providing signed artists with features.
Let me start by saying that any major label – any mid-major with major label distribution – will spend upwards of a million dollars on the promotion and marketing of an artist's single. Additional money will be spent on the promo/mktg of the artist's album. A major label will often "hedge" it's bet and stack the deck by adding a hot artist to a new artist's song to bolster the already hefty budget behind the song.
The logic of adding a feature is lost on most indie labels and aspiring artists. They fall victim to the belief that "star power" makes these songs with features into hits – so they want to buy a feature – a verse – a hook from the 'flavor of the month' artist. The reality is that the feature is designed to maximize the reach of the promo & marketing campaign. Most indie labels & artists who buy features don't have a promo plan or budget.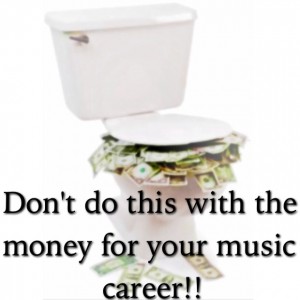 Unknowingly, they assume that the presence of another hot artist will automatically get their music heard. The truth is that a feature from a major artist doesn't increase the reach or influence of your record if there's not a substantial budget to promote the song.
For example, it's an error in logic to assume that French Montana blew up in 2012 because Rick Ross, Drake and Lil Wayne were on the "Pop That" song with him. Millions of dollars were spent on the promotion of French's single and album. The combination of proper funding, star power & catchy song all added up to a platinum plaque for all the artists involved.
Success is not always the case with features on a major level, for example, Yo Gotti's "Women Lie, Men Lie" single with Lil Wayne & Young Jeezy's "Ballin" also with Lil Wayne would've done much better than peaking at 81 & 57 respectively, simply because of the presence of Wayne on the record. Both of these songs were released during the time of Wayne's "prime", when he was one of the most sought after artists in music. Despite the mega-watt star power of a Lil Wayne feature both singles had very lackluster sales.
There are DOZENS of examples of artists who've dropped singles with features that did phenomenal. There are TENS of THOUSANDS of examples of artists who've dropped singles with features that absolutely flopped. For an indie, depending on the star-quality of a featured artist to "break" the record is equivalent to throwing the money away. The truth of the matter is this: without the proper promotional plan behind a song, the features alone aren't enough to spread the music to a wide enough cross-section of the population. It's all about promoting and marketing the great music you have. I'm a proponent of working your way into position where better known artists seek YOU out, rather than paying them
My point in all this is that a feature is not a cure for your obscurity.
Finish story here;
http://iamthaconnect.com/2014/03/15/spending-to-be-a-rapper-vs-investing-in-a-rap-career/