Black Lives Matter – It's Different This Time.
(ThyBlackMan.com) Today is "Black Lives Matter Day" in the state of Georgia. African Methodist Episcopal Bishop – Reverend John R. Bryant of the Sixth Episcopal District of the A.M.E. Church – made that declaration. American lives matter. Human lives matter. But all Americans aren't subject to racial profiling. All human beings aren't at risk of being beaten, shot to death, or killed via chokehold at the hands of law enforcement officers – those who are charged with the awesome and solemn task of protecting and serving our citizens. We desperately need to talk. We need to come together to figure out how to peacefully co-exist as brothers and sisters. America can't breathe.
While politicians politicize, haters hate, and critics criticize as too many Americans pretend not to notice, a whisper is becoming a scream. Anger is being channeled into non-violent, civil disobedience. Those who are passive have suddenly become active. Social protests come and go. Political disappointment by the masses sooner or later gives way to the normal deluge of mortgage payments, soccer practices, work schedules, PTA meetings, church activities, and the like. Not this news cycle. Dare I say, it's different this time.
Let me be crystal clear. The fact that today – or any other day – requires the mantra "black lives matter" to be chanted or sung or shouted to remind Americans of the promises ensured by the United States Constitution is itself an abomination. Something is very wrong here. The deaths of Eric Garner (Staten Island, NY), Michael Brown (Ferguson, MO), and Tamir Rice (Cleveland, OH) in rapid succession prove that. All three were black. All three were male. Mr. Brown and Mr. Garner encountered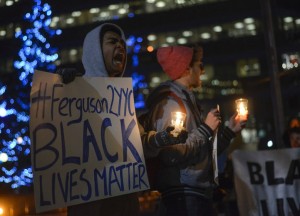 the police – and ended up dead minutes later. Tamir Rice encountered police – and was shot dead three seconds later. He was 12.
The Reverend Dr. Martin Luther King, Jr. was absolutely correct when he said "Injustice anywhere is a threat to justice everywhere." Seemingly with those words in mind, people are marching, protesting, and organizing. And when I say people, I'm not just referring to the Americans of every ethnicity, age, national origin, gender, political affiliation, socioeconomic bracket, system of faith, walk of life, and educational background. I'm not just talking about the American people demanding justice in Ferguson, New York City, Chicago, Los Angeles, Anchorage, Atlanta, San Francisco, Boston, Miami, New Orleans, and even London. I'm seeing professional athletes from various sports standing in solidarity with the protestors. That's exceedingly rare.
When LeBron James of the Cleveland Cavaliers – the best basketball player on the planet – is seen wearing a "I Can't Breathe" t-shirt in pre-game warmups, it's different this time. When various players of the St. Louis Rams come out during the pre-game introductions standing side-by-side silently with their hands up, it's different this time. When hundreds of Congressional staffers walked out of the Capitol en masse on Thursday afternoon, stood on the steps outside, and silently protested in broad daylight with the "hands up-don't shoot" pose, those in authority take notice. When medical school students throughout North America conducted "die-ins" this past Wednesday, something major is brewing. The visual spectacle of future doctors wearing their white coats while lying lifelessly on cold floors or sidewalks Wednesday to protest the recent killings of unarmed black men by law enforcement and the racial biases that also exist in health care cannot be ignored or shrugged off. It's different. Med school students from Harvard University to Howard University are prescribing clarion calls for change.
I respect the police. I want the police to respect me. I need that to survive.
If an unarmed black man can be killed in the light of day in the presence of multiple witnesses by someone wearing a badge while being videotaped throughout the process, that's inexplicable. If a peace officer who takes an unarmed black man's life can fully expect not to be indicted and back on the job in short order, that's unacceptable. In any city or state or nation in which these miscarriages of justice are institutionalized, no one is safe.
Republicans, Democrats, and Independents know these things well. You know it. I know it. Meanwhile, American politicians continue to remain perpetual victims of their own volition. They're too afraid to stand up and do something about America's racial divide – so they do nothing. Too many of them are cowards who cite conscience as a rallying cry for ineptitude as city blocks burn and unarmed citizens die with impunity.
So it falls to us. We the people must pray, organize, protest, march, sing, shout, and chant to bring about justice and equality for all. As Matthew 20:16 of the Holy Bible informs us: "So the last shall be first, and the first last: for many be called, but few chosen."
Black lives matter – here and everywhere. Today and every day. I say unto you: this time, it's different.
Staff Writer; Arthur L. Jones, III
This talented brother is a local Minister, weekly featured Democratic Op-Ed columnist, non-profit advisor, and sees the Braves winning it all this fall. Rev. Jones welcomes your comments! Please email him directly at: tcdppress@gmail.com.