S-I-M-P-OLOGY, Illogically, Be Saving Them From Accountability..And Obviously Well.
(ThyBlackMan.com) A couple of months ago, I was a guest on a blogtalk radio show, and a Brother asked me "What can Black Men do in order to better the relationship between the Black Man and Black Woman?" My response to him was that the Simps MUST be destroyed! These simps that are mingling among the Black Man and Black Woman are detrimental and they MUST be annihilated. It's pointless for me as a Black Woman to push accountability among Black Women if there is always a simp on standby, just waiting to ride off into the deflecting sunset with her.
I understand why so Black Women love Simps. They are your (our) last hope. Kinda like Obi-Wan Kenobi.
I mean who will turn a whore into a housewife (and there is No REAL REFORMATION) but a Simp?
Who's gonna take care of all your children….by various men….to which you have no shame…but a Simp?
Who's gonna allow you to rule the house…but a Simp?
Who's gonna take you all used and abused and ran through….but a Simp?
Who's gonna allow you to esmaculate him but a Simp?
Who's gonna defend you even when it's been PROVEN that you're wrong but a Simp?
Who's gonna still call you a Queen even when you consistently exhibit non royal behavior but a Simp?
Who's gonna allow you to break his back with YOUR baggage and your family's generational baggage (because you REFUSE to do some unpacking) but a Simp?
Who's gonna do another man's bid (pay for the mistakes of past men, because you refuse to heal) with a smile on his face but a Simp?
To a deflecting, narcissistic, unaccountable, self-entitled, rebellious, above reproach Black Woman..a simp is your dream guy!
What's that I see? A Deflector in a distress?
Captain Save Em to the Rescue!
"Ah is a, Ah is a, Should I save her?
I want to be saved!!!!"
Simps don't understand how they are destructive to our community. They seem themselves as uplifting Black Women, but what they are actually doing is enabling and coddling us and  our unhealthy behavior. Whenever a Black Woman is being held accountable, here comes a SIMP swooping in to save her from her unaccountable self, under the guise of "protecting her".
White Knight Syndrome (Captain Save Em/Simps) – are men that are attracted to the "distressed", the depressed, needy or damaged women,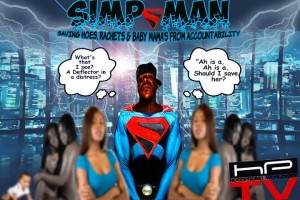 and are convinced that they can "rescue" them from themselves.
Let me tell you how we as women create, promote, influence and provide a need for Captain Save Em's.
Let's start with our sons. If my son sees me in situations where  I have a revolving door full of men, if I am making the conscious decision to choose men that I KNOW are no good for me, if I suffer from low self esteem or self worth, if I continue to discount my value, if I always portray myself to be a helpless victim, then I can create the White Knight Syndrome within him. If he can't "save" me, his mother..then he would look for another women that resembles my destructive pattern and he will try to save them, and saving them would be like saving me. This is unhealthy for several reasons. It creates co-dependency (which a lot of people are but don't recognize it)and unhealthy definition of being needed.
It also takes away from the other person from doing the work. If there is always a White Knight to save me from myself, what incentive do I have to face myself? It absolves me of accountability, because the White Knight carries my burden, pain, shame and dysfunction FOR me.
This is why Simps have become a staple among Black Women, because they always come to our rescue, when the best thing to do is to leave us stranded and allow us to figure out find our own HEALTHY way out of our dysfunction.
I know that Black Women will try to shame Black Men and say that you all have "mommy issues", when in fact as Mothers, we HAVE given you a lot of issues, that have made it difficult for you to engage, and interact with Black Women. Especially if we are Single Mothers that glamorize that lifestyle. We have already said that a man isn't needed, so that discounts the masculine principle in the household, therefore we create needy sons, that grow up to be needy men, because throughout their childhood, they kept hearing that men aren't a necessity.
In order for the Black Family to be restored, in addition to getting the Black Woman to hold herself accountable for her actions, we must have a  Simp closeout sale, meaning ALL SIMPS MUST GO!
Staff Writer; Nojma Muhammad
To learn more about this talented sister, feel free to visit;
Nojma Reflects
.