White Man Claiming to be Me, didn't Know I was Standing Behind Him?.
(ThyBlackMan.com) I was at a flea market this weekend and I came across a white guy claiming to be selling Native American artifacts, antiques and collectibles. He was loud, boisterous and telling people he was part Cherokee. He was literally claiming to be a member of my tribe, my ancestry and my family; basically claiming to be me. Of course I wasn't having it. So, I called him out in front of everybody.
He claimed that his grandmother's grandmother was Cherokee and was on the trail of tears. I asked him how in the hell did he end up with blue eyes and pale white skin? Then I called him a straight up liar. I told him that I was Cherokee (as well as two other tribes) and there was no way he was related to me. I told him all 4 of my grandparents were Native American and their names were listed on the Dawes Rolls among others. I told him that he was the descendant of a five dollar Indian. That's a white man who paid five dollars to get his name put on Native American census rolls in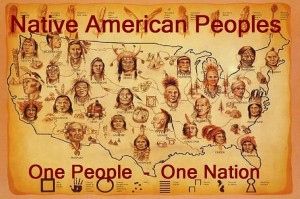 order to get their benefits. I shut 'em down!
 
The reason a majority of white folks claim to be Cherokee was because a group of Cherokees accepted whites folks into their tribe and these white folks took over completely. They even went as far as to pass laws stating that Natives had to marry whites and own African slaves in order to be considered civilized. More Natives became lighter skinned because the counsel became white and considered themselves more Native them full blooded Natives. It was a systematic process of elimination.
To this very day, Virginia and Carolina Native Tribes reject quantitative D.N.A. testing in order to prove bloodline. This allows white folks to commit their identity theft and collect benefits. Today, there are tens of thousands of natives on reservations that are not Native American. And they run around telling people that Native Americans hated blacks when it was just the opposite. They even went as far as labeling any Native who left the reservation as NEGRO.
 
NOTE: LOOK UP THE WORK AND DAMAGE DONE BY RACIST WILLIAM ASHBY PLECKER, HEAD OF THE DEPARTMENT OF VITAL STATISTICS-WHO DECIDED HE WAS ONLY GOING TO DESIGNATE PEOPLE AS BLACK OR WHITE. HE TRIED TO WIPE OUT THE NAMES OF AS MANY NATIVES AS POSSIBLE. TRIBES OUTSIDE OF HIS REACH WERE UNTOUCHED. HE RE-DESIGNATED TENS OF THOUSANDS OF NATIVES BECAUSE IN THAT REGION PLECKER SAID HE COULDN'T TELL THE DIFFERENCEBETWEEN A NATIVE AND A NEGRO. SO, HE LISTED THOUSANDS OF THEM AS EX-SLAVES. MOST OTHER TRIBES ACROSS AMERICA NEVER KNEW WHAT HAPPENED TO THEIR COUSINS IN THAT REGION. THAT'S HOW THE FACE OF A LOT OF NATIVES BECAME WHITE!
 
It's also why the five civilized tribes have so much chaos and identity theft today; white folks. Then in school they tell all the kids about the Trail of Tears. That's when racists like President Andrew Jackson and his soldiers forced Cherokee men, women and children to walk from the east coast to an Oklahoma reservation in winter. So, white folks grew up knowing that the Cherokee had a lot of white blood and they were able to claim to be Natives.
 
FACT IS THE CHEROKEE WAS ONE OF THE DARKEST TRIBES IN AMERICA; like most east coast tribes. Most western tribes have Asian blood and features because of the Asian mixing a thousand years ago. Visit some of the Native American museums to learn real history. And you'll find out what white folks are hiding from you. Pocahontas was as black as any African, with tattoos covering her entire face and body. But have you ever seen that? NO!
 
WHITE FOLKS WANT TO BE EVERYTHING BUT WHITE! They use lip injections, butt injections, tan in a can, melanin pills, and identity theft to achieve those ends. But the media is their biggest weapon because they control it. YOUR JOB: Your task is to challenge the lies! Your goal is to demand QUANTITATIVE DNA TESTING TO GET RID OF THESE IMPOSTERS AND RE-CLAIM WHAT"S YOURS.
Staff Writer; Xavier James