The Case Against Officer Darren Wilson.
(ThyBlackMan.com) Funny thing about facts, they are what they are-always have been, always will be. Fact. On August 9, 2014 Officer Darren Wilson-a six year veteran of the Fergusoin Police Department-shot and killed 18 year old Michael Brown in Ferguson, Missouri. Fact. Michael Brown was unarmed at the time of his death. Fact. There are at least two (TWO!!!) eye witnesses, Dorian Johnson-Michael Brown's friend that was with Brown at the time of the shooting-and Piaget Crenshaw-happened to video record from her apartment window Darren Wilson shooting Brown dead.
Fact. Both witnesses have gone on national news networks to tell their stories. Now that the facts (and no these aren't ALL of the facts but facts nonetheless) have been laid out Officer Darren Wilson needs to be brought to justice.
Why isn't Darren Wilson in a jail cell? That is the question I kept going back to as I sat down at my desk and turned on my laptop in preparation of this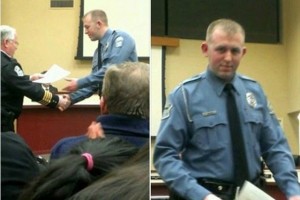 column. The facts are the facts: Didn't he shoot an unarmed Michael Brown? Killed him in cold blood for what ultimately was an alleged shoplifting charge.  Fact. Darren Wilson is white. Fact. Michael Brown was black.
Unfortunately that might be the ultimate fact in the story. White policeman kills black teen. White man kills black boy. Fact. Separate authorized and unauthorized autopsy reports show that bullets entered Brown's body from the front. That Brown may have attacked Darren Wilson after he and Johnson were instructed to "freeze" could be true. I'm not arguing that "fact". Both witnesses to the shooting that have gone public thus far say that at one point Brown had his hands in the air, arms raised, no gun in hand before being shot six times. Fact. Darren Wilson should be in jail in Ferguson, Missouri for if nothing else manslaughter. Being a terrible police officer isn't against the law is it?
Fact. There have been Darren Wilson supporters online-Facebook and GoFundMe accounts have been set up and have garnered over $70,000 thus far. Fact. Since Brown's murder there have been 21 consecutive days of protest on the streets of Ferguson since the shooting. Fact. The Missouri Highway Patrol has been called in to do the job that the Ferguson P.D. obviously could not. Fact. There has been more money donated to the Darren Wilson there has been to Michael Brown's family. That alone says more about race relations in Missouri and around the country than any newscast or column could ever state.
FACT. Michael Brown's funeral will be held in Ferguson on August 25. Darren Wilson will be available to attend because he most likely will not be in custody.
Staff Writer; Donnell Suggs
One may also connect with this talented writer via twitter; Suggswriter  and also facebook;D. Suggs.