Why the Kevin Love to Cleveland trade will result in a title in Cleveland THIS YEAR.
(ThyBlackMan.com) There is only one team sport on this planet we call Earth where two men can ultimately determine a title: basketball.Football: Barry Sanders couldn't get in done as the best running back in the league. How about baseball: Barry Bonds couldn't grab the brass (World Series) ring after spending his entire career as an all-star and at one point the most feared man in the game. Even the great Michael Jordan didn't accomplish the first of his six titles without the other guys (i.e. Scottie Pippen and Horace Grant) improving first.
The Bull's second three-peat was even easier due to the amount of talent afforded to him; a (semi-)focussed Dennis Rodman, a more learned Toni Kukoc along with a knock-down shooter the likes of  current Golden State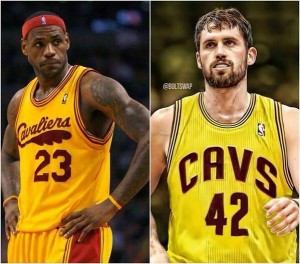 Warriors coach Steve Kerr. No one man can do it alone in the NBA. Magic, Bird, Jabbar even Chamberlin all had great teammates to play with-hall-of fame caliber players to assist in the challenge of winning it all.
The Cavs will win it all THIS SEASON here's why:
Lebron James-pound for pound the best player on the planet-once again will get the opportunity to play alongside prime time talent (his four years in Miami besides Dwayne Wade and Chris Bosh successfully resulted in two titles) with the addition of Kevin Love to what prior to the trade looked like a 45-win Cleveland Cavaliers team at best. Another Lebron and the 'Lebronaires' type situation. Kevin Love has spent his professional career thus far playing for lottery chips in Minnesota and now will get to have 75% of his regular season games and every single playoff minute on national television.
Kevin Love's style of play and unselfishness on the court will fit in perfectly with the league's best team-player James. Both players have the ability to reel off a triple-double in a moments notice-James has 47 for his career which is third all-time behind Jason Kidd and Magic Johnson. Kevin Love was third in the league last year with three.
The key to the Cleveland Cavalier's success will be their speed on offense with point guard Kyrie Irving leading the way along with both Love and James having ball movement responsibilities. Both players averaged over 4 assist per game last season and are known for their deft passing abilities (James: 6.3 per game, Love 4.4 per). The offense will have more than one player handling the ball which will become a problem for the league's teams to handle.
Another advantage The Cavs will have over many of the East's teams will be that they will have two major scorers on the floor while also having two very good rebounders. Kevin Love averaged 26 points per game last year while averaging 12.5 rebounds. Granted it was for a team that needed his scoring desperately but his rebounding numbers come from pure effort and talent and will translate wherever he plays. James' 27/7/6 points per game averages speak for themselves. Along with starting center Anderson Varejao and power forward Tristan Thompson (both averaged over nine rebounds per game) the Cavs will have a huge rebounding advantage over their competition.
All in all the addition of one of the league's top 20 players (Kevin Love) to a team with it's best player (James-sorry Kevin Durant but facts are facts) to go along with another top 20 player (Irving) leaves the city of Cleveland with the problem of trying to plan a parade downtown that will not interfere with the one the city of Akron will plan  following the Cavalier's championship in 2015.
Staff Writer; Donnell Suggs
One may also connect with this talented writer via twitter; Suggswriter  and also facebook;D. Suggs.