Harry Styles twitter, fanfiction: He Is More Than Just A Pretty Face.
June 28, 2014 by Staff
Filed under Uncategorized
(ThyBlackMan.com) Harry Styles born Harry Edward Styles is a singer and actor. He was born on the first day of February 1994 and becomes very famous as he becomes a member of One Direction. It is an English boy band that focuses on pop genre. Prior to becoming a member of One Direction, Harry Styles became the lead singer of the band, White Eskimo. They performed in Holmes Chapel, Cheshire, England.
His X Factor Journey
It was in 2010 that Harry Styles auditioned as a solo artist in the X Factor; a British television series. Unfortunately, he was eliminated as a solo performer, but he was brought into the competition together with four previously eliminated contestants. They formed a group, which was called as One Direction. Today, their group is one of the famous boy band groups not only in the United Kingdom, but across the universe.
His musicality and style
Harry Styles is a native of Holmes Chapel. He spent his school days in Holmes Chapel Comprehensive School, but aside from that, he was a part time worker at the local bakery. At a very young age, he showed interest in singing. His childhood was spent attending singing competitions,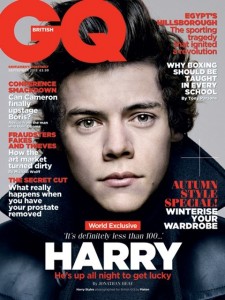 performing at various talent shows, and even singing on weddings.
Aside from that, he also appeared in various films and television shows such as the Nickelodeon series iCarly and the most recent film "One Direction: This Is Us, which is actually an autobiographical concert film.
Harry Styles joined One Direction together with Zayn Malik, Niall Horan, Liam Payne, and Louis Tomlinson. They released a total of three successful albums and were able to perform concerts and worldwide tour. As a matter of fact, they have won various awards including four MTV Video Music Awards and two BRIT Awards. "What Makes You Beautiful" is their debut single, which is the number one on the UK Singles Chart. It has sold more than 5 million copies across the world, which makes the single one of the bestselling singles of all time.
Other Interesting facts about Harry Styles
The Girl of my Best Friend by Elvis Presley is the very first song that Harry Styles memorized. At the age of 12, he already has a girl friend named Emilie. They started going out then. Harry has a stepdad named Robin, whom he loves the best. In fact, he was very pleased when Robin finally proposed to his mother. Do you hate being naked?
Well, Harry is the opposite. He loves getting naked because he feels so free. As mentioned above, he was discovered in the X Factor and during such time has admitted that he has a big crush on Cheryl Cole, which is one of the judges at that time. He also has a crush on Caroline Flack, the host of X Factor, which he dated later on. When asked about his musical heroes, his answers would be Elvis Presley, The Beatles, and Coldplay. He considered them as his icon and inspiration.
Staff Writer; Jaclyn L.
Gossip/Ent. Tips and Feedback to; Jaclyn@ThyBlackMan.com