Obama; To Hell And Back.
(ThyBlackMan.com) Several months ago, I was on Facebook, killing time out of boredom.  Suddenly, one of the meaner type of anti-Obama posts caught my eye.  Curiosity got the better of me and I delved into the source, one of those "Obama Hater" groups.
So began my descent into a particularly noxious Hell.  Paradoxically, I was shocked but not surprised.  Having grown up in a rough blue-collar area of Queens, I don't shock easy, but shocked I was.  What shocked me most was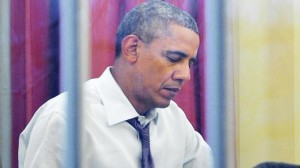 the utterly venomous, vicious and vitriolic nature of the comments.  The level of racial invective was beyond anything I had ever heard.  Then there were the personal attacks and rumor-mongering.  The language of the participants, some of whom surely identify themselves as 'Christians', hit levels of vulgarity that I have seldom encountered.  
Much of it was sexual in nature (he's gay, as if that's something terrible; one lovely person also implied that the wife "straps one on" during their intimate moments).  Of course, there was the usual "He's a secret Muslim" stuff (as if being a Muslim was something terrible) as well as statements labeling him as a Fascist, a Marxist and The Antichrist!  Did anyone say "I disagree with Obama but let's not make racial, religious or sexual innuendos"?  Not a peep to that effect.  The wilder and more vituperative the statement, the more "likes" it got.  There was a sense of real craziness, a bestial feeding frenzy of hatred.  They egged each other on, each statement getting them more riled up, spurring them on to more outrageous statements.  They are literally Obama-obsessed.
As I said, I was shocked but not surprised.  The only thing that surprised me was the total lack of fact-checking.  The participants seemed willing and eager to believe anything, absolutely anything, that reflected negatively on this man in their eyes.  If you said that Obama was a surgically-altered grey alien from Zeta Reticuli who ate human babies for breakfast, some of them would believe it without question.  
If anyone had suggested any fact-checking, they would have gotten a cyber-lynching, I'm sure.  I thought of telling these people they were nuts, but their very insanity inhibited me from doing it; I literally figured that one of the loons might be crazy enough to come after this Obama-ite pinko in one way or another.  After about twenty minutes of savoring the venomous invective, my stomach was churning and the adrenaline was pumping through my arteries.  I left the site with a sigh, glad to be out of a very unpleasant corner of Hell.
As I said, I was shocked but not surprised.  I guess I shouldn't even have been surprised.  These are people whose idea of humor is a cartoon of Barack and Michelle, depicted with exaggerated "Negroid" features, chowing down on big slices of watermelon.  Let them rave and rant in the Hell they have created for themselves.
Staff Writer;  Dr. Brad Holway