Taraji P. Henson, An Interesting Life And Career.
May 29, 2014 by Staff
Filed under Uncategorized
(ThyBlackMan.com) Taraji P. Henson is an African American actress who have starred in a number of films and managed to build a reputable career that is admired by millions in the world all over. Born in 1970 in the Washington D.C area, Taraji had a pretty rough childhood as she had to witness the divorce of her parents when she was only 2 years old. But despite this small misfortune during her childhood, Taraji P. Henson managed to culture her acting career where she has managed to win a number of awards and take lead roles in some of the most successful films that the film industry has ever witnessed.
Education
Taraji P. Henson showed her love for performing arts while still at a very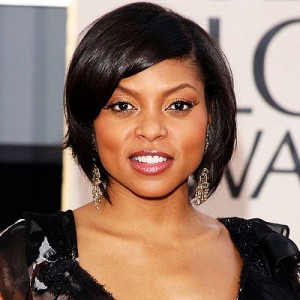 tender age. This tried to apply for a place at a performing arts high school during her teens but she was not successful. This however did not kill her spirits even as she later joined Oxon High School where she graduated in 1988.
But as fate would have it, Taraji P. Henson joined North Carolina Agricultural and Technical State University where she enrolled for Electrical Engineering. But her passion for performing arts would not let her continue with the program as she transferred after only one year of studies to join Howard University. At Howard, she studied theatre while working two jobs- one as a secretary at the Pentagon and the other as an entertainer in a cruise ship. While at Howard, the ambitious Henson also improved on her singing, acting and dancing skills. Being that she became so perfect in all the three, she earned herself the Triple Threat Scholarship.
Career as an actress
Taraji P. Henson moved together with her son to Los Angeles. This move was due to her ambition to pursue a serious career as an actress. She landed her first professional acting role in a television show named The Smart Guy. This was after auditioning for two years during which she worked various office jobs in order to make ends meet for her and her son. Her role in Smart Guy opened the door to other opportunities as she landed other roles in The Sitcom Sister, Homicide, and ER.
But Taraji P. Henson big break in acting came in 2001 when she landed a starring role in the film Baby Boy. Due to her stellar performance in Baby Boy, the African American lady landed another major role later in 2004 in the movie Hustle and Flow. Other than acting in the movie, she also sang the sound track to the movie which was a song known as "its hard Our Here for a Pimp". This song alone won her an Academy Award for the Best Song in 2004.
Several other lead roles continued to follow her. For instance, she landed major roles in the films Talk to me and the Smokin' Aces. To prove that she was an all rounded actress, Taraji P. Henson impressed the directors of the film Curious Case of Benjamin Button where she demonstrate her flexibility to adapt to various acting roles. This film earned her two awards – Academy Award Nomination and the Screen Actors Guild Award.
Taraji P. Henson has continued with her performances in the film industry and recently starred in the film Think Like A Man which was released in 2012. She has also featured in No Good Deed which was produced in 2013. She's also been starring in the television series, Person of Interest since 2011.
Staff Writer; LadyK
Gossip/Ent. Tips and Feedback to; LadyK@ThyBlackMan.com