L.A. Clippers Owner Sterling Courts Controversy with Racist Remarks.
(ThyBlackMan.com) An audiotape obtained by celebrity gossip show TMZ has revealed Los Angeles Clippers basketball team owner Donald Sterling scolding his Black and Mexican girlfriend for publicly associating with Black people. The tirade came after the woman, reported by TMZ to be V. Stiviano, posted a photograph of herself and Magic Johnson to Instagram. Sterling then admonished her over the telephone for associating with blacks and bringing blacks to Clippers games, and can be heard saying:
            "It bothers me a lot that you wanna [sic] broadcast that you're associating with Black people. …You can sleep with them, you can bring them in, you can do whatever you want…the little I ask is you not to promote it and not bring them to my games."
            Responses to Sterling's words were heated. NBA spokesman Mike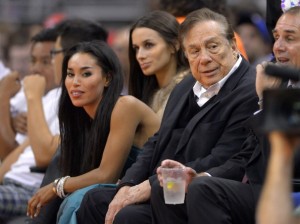 Bass called Sterling's remarks "disturbing and offensive". National Basketball Players Association mayor Kevin Johnson described Sterling's comments as "reprehensible and unacceptable". Late Saturday, civil rights leader Jesse Jackson called for a boycott of the Clippers and the suspension of Sterling for a length of time to be determined later. Former NBA all-star and TNT network sports anchor Charles Barkeley called the incident, "the first big test" for new NBA Commissioner Adam Silver and also called for Sterling to be suspended.
            There is no doubt that Sterling must face, at least, a suspension and a substantial fine for his remarks. In fact, the Jim Crow-era segregationist tone of his statements, which give us a glimpse of his "being-seen-with-a-black-person-is-taboo" mindset, or rather his, "I-can-date-a-black-girl-but-I-can't-be-associated-with-black-people" mindset, may warrant an even stiffer punishment from a national basketball league in the 21st century that is seventy-eight percent Black. My hope is for a high profile conversation about racism in the NBA that involves not only players, coaches, and owners, but fans and civic leaders in the city of Los Angeles, who, hopefully, will express their displeasure with Sterling at the ticket office.
            As for me…I concur with Magic Johnson's statement on the issue, who tweeted on Saturday:
            "I will never go to a Clippers game again as long as Donald Sterling is the owner."
            My sentiments exactly.
Staff Writer; David Christopher Steele, A.M
This talented brother is a native New Yorker and former educator who taught in New York City public schools and at a New England boarding school.  Steele is now an educational blogger and political journalist.  He is a graduate of the University of Pennsylvania and New York University.  Follow him on Twitter at http://www.twitter.com/DCSteele1.