Mimi Faust: The Porn Star?
(ThyBlackMan.com) Earlier this week many news outlets, including the Huffington Post reported that fans of  Love & Hip Hop: Atlanta were "sent into a frenzy on Monday, with the announcement of not only the show's forthcoming Season 3 premiere on May 5, but also the forthcoming release of a sex tape featuring two of the show's stars," Mimi Faust, and her boyfriend singer/song writer Nikko Smith.  Honestly, I was shocked. I couldn't wrap my mind around why a forty-something years old woman with a young daughter would make a sex tape.  
Of course as a fan of the show I wanted to see this sex tape myself, all the while praying that this news was just a vicious rumor, and not the least bit true. I was prepared to defend Mimi, because I am always ready to make right where there is wrong doing.  Then I watched the video, (twice) and I was in total disbelief.  In short, this particular sex tape was raw, and it left nothing to the imagination.  Yes it's porn, but aren't there certain etiquette one follows when making porn?   
I have to say, I was a little disappointed because I didn't see that one coming.  Here's why.  You see, although I know good and well that what I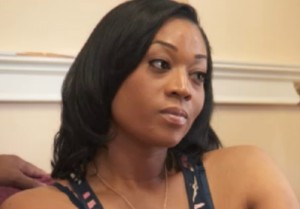 see on any reality TV show is mostly scripted,  I still find myself wanting to believe in the (
love & hip hop)
women who let us into their crazy lives. And  I want to believe what I see going on in their lives is the absolute truth. That is why I rooted for Mimi when she kicked her ex Stevie J, the father of daughter Eva to the curb.  I was proud of my girl for having her own business, and doing her own thing to take care of her daughter. However I must admit, It was difficult for me to understand why Mimi chose to objectify herself inspite of the progress she clearly had made on the show. Which begs the question: where does one draw the line?  At what point did it become ok for a woman of a certain age to make a porn tape?  
It occurred to me as I was trying to come up with some answers that there are one or two positions I can take with Mimi's little debacle, and huge lapse in judgement.   On the one hand,  I can say in this economy a  girl's gotta do what a girl's gotta do.  After all, she's not the only one. Just recently it was reported that a Duke University student, who called herself 'Lauren' started doing porn to pay for her hefty tuition bills.   And before her, there was Kim K., Paris Hilton and MTV's Teen Mom reality star Farrah Abraham.  But, these girls were (are) young and stupid.  Mimi is old, and has a child,  and according to Celebrity Networth, she is worth 1.5 million dollars.  Even more mind boggling is Mimi's nonchalant attitude about the whole thing, telling HollywoodLife.com in an interview,  "I  was thinking about me and my family and doing it because I want to…Ain't no shame in this game here."  
On the other hand, I can shame her, call her a bad mother because she used bad judgement, and made a poor choice, but, who has not, and who am I to judge?   Besides what good would that do? The truth is, no one knows why Mimi made that video, but I am certain it's not for money. Then again, I could be wrong.  There are reports saying the reality star gave her blessings to release the tape.  She also said that she is not ashamed that,  "the video has made its way into the public eye."  Meanwhile, VH1 seems to be promoting the sex tape by releasing a statement, "Mimi Faust is dealing with a scandal of her own when a sex tape "mysteriously" leaks starring her and boyfriend Nikko…"   Me, I am not buying that this tape was leaked unbeknownst to Mimi and the producers of the show.  And that is exactly what they want me to believe by showing her on the sneak peak of the upcoming season in tears begging someone not to publicized the tape.  I say, she can't have it both ways. 
In my opinion, this whole thing was calculated, and executed as planned. The real question is, why?  It's easy to speculate that Mimi and Nikko thought by doing a sex tape, it would stop the rumors that he might be gay.  If you are a fan, then you will remember that last season K. Michele accused Nikko of being gay.  If that is one reason the two made the sex tape, then it's possible that Mimi is being truthful about her feelings when she said that she is not ashamed of what she did.  Sure, maybe not right now while the cameras are still rolling,  and she is still taking pretty pictures on the red carpets.  
But what happens when there are no more cameras around, and no one cares about 'who' she is  'wearing' on the red carpet?  I wonder what Mimi is planning on doing when one day her little girl becomes a young lady and asks about her porn tape. What then? Does she thinks that her porn tape will disappear one day never to be seen again?  Maybe in her dreams.  I am reminded of something I hear all the time: older doesn't mean wiser.  And I think it's telling that it never occurred to Mimi that a man who cares, love, respects and wants to marry you does not want to make porn with you, because he does not want other men to see his 'baby' if you catch my meaning. Unless he has another agenda. In any case, for Mimi's sake I hope it was worth the sacrifice, because I am sure from now on she will always be known as that 'girl who did the sex tape'. 
Staff Writer; Kency Desmangles
One can also connect with this sister via Facebook; K. Desmangles.