Praiseworthy: Nolan Richardson's triumph is part of March Madness lore.
(ThyBlackMan.com) March is a wild and magical time for college basketball fans and 20 years ago this time of year belonged to Nolan Richardson, when his Arkansas Razorbacks won the 1994 National Collegiate Athletic Association (NCAA) Men's Division I title.  In capturing the crown with a 76-72, triumph over fabled Duke University, Richardson became the first head coach to lead teams to a National Junior College championship (Western Texas College, 1980), a National Invitational Tournament championship (Tulsa University, 1981) and a NCAA Division I title.
Despite the intense pressure attached to March college basketball games, March was often when Nolan Richardson's Arkansas teams performed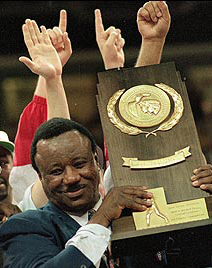 best, as he led the Razorbacks to three Final Four appearances in the NCAA Tournament.
Not only did Nolan Richardson's teams win, but they also played with a signature style featuring up-tempo offense and full-court defensive pressure.  The style became known as "40 Minutes of Hell," but the catchy phrase may have shortchanged Richardson and his players.  Executing on both ends of the court often at breakneck speed required much more than raw athleticism.  Playing basketball the Richardson way also called for determination, tenacity, courage, and finally, intelligence, an attribute that is not associated nearly enough with African American athletes or coaches.
There was no way that Nolan Richardson could be ignored when his teams were routinely playing before sellout crowds and winning league championships in the Southwest Conference, and later in the legendary Southeastern Conference.  Among his biggest fans was the state of Arkansas' favorite son, President Bill Clinton.  However, as the years go by, Richardson's accomplishments appear to be going the way of Ralph Ellison's "Invisible Man" narrator. 
College basketball is a sport where coaches are often celebrated more than players.  Through the reverence bestowed by the media the accomplishments of coaches like Adolph Rupp, John Wooden, Dean Smith, Bob Knight, Al McGuire and Digger Phelps are told and retold, as if these men never stopped coaching, and it ensures that the sport's rich history is never forgotten. Nolan Richardson is an important part of the game's history and should be included on the mythical Mount Rushmore of Division I coaches. 
It is not enough that Nolan Richardson was elected into the National Collegiate Hall of Fame in 2008 and is a finalist for induction into the Naismith Memorial Hall of Fame this year.  As prestigious as those honors are, Richardson's glory should not be relegated to the past.  Anyone who studies Coach Richardson will learn not only about a man who won more than 500 Division I games, but also a man of principle.  He defiantly ran his mouth as much as his players ran on the court, and in the process he used his coaching position as a platform to address issues far more important than the game, including the plight of people from disadvantaged backgrounds in America.  
During his magical season of 1994 Nolan Richardson once said, "if I was white, and I did what I've done here, they'd build statues to me."  While the statues may never get built, the man who never backed away from a battle—both on and off the court—deserves to be mentioned much more often by today's sports commentators, especially during the 20th anniversary year of his March Madness conquest.   
Staff Writer; Scott Talley
This talented journalist is owner of a public relations firm; Scott Talley & Associates, Inc….