Praiseworthy: Craig Hodges—Sweet shooter placed principles first.
(ThyBlackMan.com) Craig Hodges never made an NBA All-Star team, but during the early 1990s he captured the attention of the basketball world by winning the three-point competition three consecutive years (1990-92) during the league's celebrated All-Star Weekend.
Playing in an era where talented sharp shooters like Reggie Miller, Glen Rice, and Dale Ellis terrorized NBA defenses, Hodges may have been the deadliest for that three-year stretch.  In addition to the three-point titles, Hodges helped the Chicago Bulls win two world championships during that period by providing consistent outside scoring.
Along with having a feathery touch, Hodges demonstrated that he possesses a sharp mind, awareness of the plight of African Americans outside of basketball and courage.  Many believe those latter characteristics short-circuited his NBA career. After the Bulls won the championship in 1992, the team went to the White House after an invitation from President George H.W. Bush.  Craig Hodges accompanied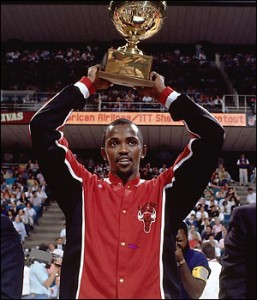 the team wearing a dashiki and handed President Bush a letter that asked the president to do more to end the injustice toward the African American community.  As it turned out, 1992 would be the last year Hodges played for the Bulls or any other team in the league.
It is worth noting that Craig Hodges was 32-years-old, an age regarded as "advanced" or "seasoned" in the world of sports, but not necessarily "over the hill."  Also working against Hodges, from a playing standpoint, was that he was a so-called "role player" and never a primary attraction on the great Bulls teams featuring Michael Jordan and Scottie Pippen.  Nonetheless, in a sport where putting the ball in the basket is the name of the game, it is puzzling to say the least that no other team thought a proven outstanding shooter like Craig Hodges could help them, if his ability as a player was the only determining factor.
During the 2014 All-Star Weekend it's safe to assume that only basketball purists will recall Hodges' three-point shooting exploits more than 20 years ago.  Instead, the celebration of recently retired NBA Commissioner David Stern will continue.  In praising Stern, the media is quick to note that the salaries of NBA players soared to an average of more than $5 million per season on Stern's watch.  However, the same certainly cannot be said about the masses of African Americans, and that is why an athlete like Craig Hodges is needed today more than ever.  Great shooters come and go, but athletes who speak for the voiceless are certainly rare.  Craig Hodges was one of those athletes and he deserves to be remembered during All Star Weekend and beyond.
Staff Writer; Scott Talley
This talented journalist is owner of a public relations firm; Scott Talley & Associates, Inc….