Baby North West pictures, photos, Is Introduced To the World.
August 29, 2013 by Staff
Filed under Uncategorized
(ThyBlackMan.com) Awww the day so many have been waiting on has finally arrived. Kim Kardashian and Kanye West have released photos of their baby girl North West. Not only did we wait for the name of the newest member of the West/Kardashian Family, we also played the waiting game for pictures Baby North West.
With Kanye West and Kim Kardashian as North West' parents all eyes will be on this gorgeous, little girl for years to come. If astrologers are correct she has a very bright future ahead of herself.
It's being said that she is a very lucky baby and will be known by all. Well of course we all know that. It doesn't take a psychic to figure that one out.  But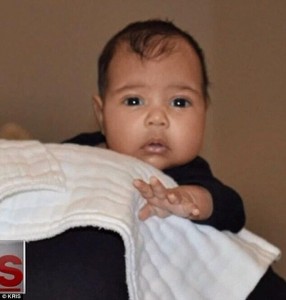 astrologers are saying this was going to happen anyway, since she was born on one of the luckiest days of the year during perfect alignment of the stars.
North West will have prominence, money, an ability to travel far and wide. Her sign and the alignment under which she was born will elevate to the very top of her chosen profession. She was just born with luck surrounding her. I can truly say that the birth of Kanye and Kim's  love child North West is just big and maybe even bigger than the arrival of Beyoncé's and Jay Z's Ivy Blue.
http://www.huffingtonpost.com/2013/06/18/kim-kanye-baby_n_3460305.html
Will North West be the next money maker for her granny Kris Jenner? I can see some of you gasping in shock at my question. Well close your mouths. You all know that mama Kris, the matriarch of the Kardashians has the thought of money running through her mind 24/7. At night instead of counting sheep she's counting money bags.
We all also know that the Kardashian Klan is known for making money anyway they can and posting their personal lives to others is no exception. Sources have said that granny Kris Jenner began emailing weekly celebrity magazine editors soliciting bids for a baby bump cover story as soon as the couple made their big announcement.
But even as odd as Kanye West can be it seems that he draws the line when is comes to his baby girl North West. It's being said that Kanye West is very protective of his new born and he has let it be known. According to  The New York Times, "This is my baby. This isn't America's baby." 
But it's still surprising that the constantly-on-camera Kardashians have managed to zip their lips and silence their tweets about the most exciting thing to happen to their family since Kim's ill-fated wedding extravaganza. I would love to have been a fly on the wall to hear that conversation between Kanye and Kim K's family.
Personally I applaud Kanye for sticking to his guns and putting his foot down. I guess he refuses to allow his child to be used as revenue to increase the Kardashian Empire. Let's hope that he keeps North West protected from all of the drama and mess that comes along with stardom.
Staff Writer; LadyK
Gossip/Ent. Tips and Feedback to; LadyK@ThyBlackMan.com