Ready..Set..Move!
(ThyBlackMan.com) Dear Friend,
I just came back in from a "wog" – that's what I call the power  walking I do with a little intermittent jogging. I know for sure I feel more alive and energetic than I did when I left. My head is clear and even though I am sitting now, and not walking, I am still breathing more deeply. My lungs feel expanded, like I could belt out a Whitney Houston ballad (I am aware it would not sound like Whitney, but I still feel like I could do it!).  I don't wog to lose weight. The main reason I do it is because it makes me feel good.  My secondary reason is to be healthy, but "being healthy" is not a result I see immediately after I take a power walk. Feeling good is.
Let me be clear. Today, I headed out of the house with ease. However, there are days when I put on my exercise clothes with the intention of working out, and end up wearing my workout clothes until it's time to go to bed. Have you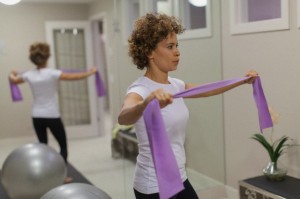 ever had one of those days?  You meant to get to it, but distractions seemed more enticing, you never got focused and your plan was upended.   It happens to most of us from time to time.  When it comes to exercise though, it seems it is easier to put off than other goals.
One of the reasons might be that the results we perceive exercise will give us are not immediate. In other words, we think of it the wrong way.  Rather than focusing on the delayed gratification of a longer life, healthier heart, and a desirable dress size, perhaps we need to focus on the immediate benefit exercise provides: a boost in happiness.  Maybe you've connected the dots between movement and happiness. Maybe you haven't.  If not, right now is a perfect time to shift your perspective.
An easy and fun way to start is to turn on your favorite music and dance in your living room. Yes dance in your living room! My first memory of dancing was dancing in the living room with my mom and a childhood friend Tyrone to Michael Jackson's "Off the Wall" album. I was about five years old and I wanted to know how to do "the rock," so my mom showed us.  It was a dance Michael did to his song "Rock with You" on his first solo album in the late 1970s. 
Every time I think of that memory, I smile. So it should come as no surprise, I still dance in my living room! I love to dance. It is great exercise. I'll turn on my favorite gospel artist, rock artist, pop artist – just depends on my mood – and get moving! Try it. It is a fun, easy way to get your heart pumping. No class to drive to. No videos to buy. Just pure fun and movement.
So today I want you to start moving. Be intentional about getting your heart pumping every day. If you want to be consistently happy and healthy, exercise should not be an option, but a non-negotiable part of your life.  So my question for you is how could you make it so? What would you be willing to do consistently that qualifies as legitimate exercise?
Written by Valorie Burton