6 'N The Morning. West Coast Hip-Hop Music 1987-1992.
(ThyBlackMan.com) West Coast Hip-Hop Music 1987-1992 & the Transformation of Mainstream Culture.
                                                QUOTES FROM 6 'N THE MORNING:
I compare making gangsta rap for me with me makin a peanut butter and jelly sandwich. Once I figured
out I could do that I was like, 'Oh I can talk about this shit all day!'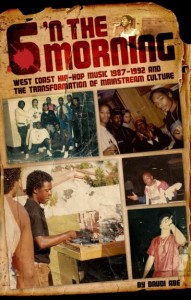 ICE-T 
I had a bunch of people come up to me & tell me that when they were kids their parents wouldn't let them
listen to rap, but they would actually buy them my record because they would read a story, see that I
didn't curse, see that I went to college and say, 'Ok you can listen to this kid.'
YOUNG MC 
I heard in this music the rebellion of the Rolling Stones & Gil-Scott Heron and the Black Panthers and having been there for that I felt it was really important for everyone to understand the angst and oppression that minorities in our inner cities have always felt. It just affected the world in so many different ways it's astonishing to me.
JERRY HELLER, NWA manager 
The West Coast from 1987-1992 stands as not only the most important time in hip-hop history, but was one of the most historic and influential cultural and artistic movements of the entire 20th century which helped shift racial, cultural and political norms which set the stage for the election of the first Black president less than 20 years later.
Author; Daudi Abe