Yes, Rolling With CNN Roland Martin.
(ThyBlackMan.com) CNN contributor Roland Martin, who departed the network on April 6, has been named the National Association of Black Journalists' (NABJ) 2013 Journalist of the Year. In today's American media, there are a number of Black faces on the screen as anchors, pundits, and hosts. But none represented the views and interests of Blacks as well as Roland Martin. In NewsOne's poll to select the nation's Top 10 Black News Pundits, Martin came in at No. 1.
Roland Martin is an "under 50" award-winning journalist. Primarily known for his work with CNN, Martin is a nationally-syndicated columnist, television host, and radio and television commentator. The award follows a February meeting between the NABJ and new CNN honcho Jeff Zucker to discuss concerns over Zucker's vision for the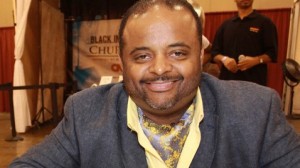 network. So, as Martin makes his exit from CNN, NABJ's Board of Directors appear to be making a public endorsement of Martin by giving him their most coveted award, "celebrating the accomplishments of Black journalists and those who support Blacks in the media."
Many African Americans have reacted negatively to CNN's failure to renew Martin's contract. But others have said, "good riddance," citing what they considered his arrogant personality. But among so many in the media that feel obliged to "hide their Blackness," Roland Martin has singularly been front and center on Blacks and their issues. 
"No other African-American journalist brought more news and analysis to Black communities about the most important stories than Roland Martin," said Vanessa Williams, former NABJ president and an editor at the Washington Post. "Martin has enjoyed an enviable career as a multimedia journalist, becoming a respected and trusted voice in print, on air and online."
Said NABJ President Gregory Lee, Jr., "He is unapologetic about his quest to provide well-rounded coverage of the African-American community, and to provide unique insights to diverse audiences across the many platforms on which he is asked to contribute on a regular basis."
Throughout his career, Roland Martin has contributed much for his race. A lifetime member of the NABJ, Roland Martin served as national secretary of the board from 2009 until 2011. Surrounded mostly by Whites in network news settings, Martin is comfortable "being the Black in the room."  Early in his career, Roland Martin was a radio talk show host for Chicago's Black Talk radio station WVON-AM. He is the former executive editor of The Chicago Defender, one of the nation's oldest Black newspapers. He was the founding news editor for Savoy Magazine, and the founding editor of http://BlackAmericaWeb.com.
As he departs CNN, Roland Martin, no longer has a "cross-over audience." Some African Americans will talk about protesting CNN's treatment of Martin and rally crowds in front of CNN offices. In reality, more of us need to channel our remotes to the Black-owned network to watch Martin host TV One's one-hour Sunday morning news show, "Washington Watch with Roland Martin." During weekday mornings, millions hear him on the "Tom Joyner Morning Show."
In what may well be the perception of the majority of Americans, during an interview Rush Limbaugh, who openly criticized the TV One television network, saying it isn't worth "salt," called Martin, "angry." More Blacks should support Roland Martin's "anger."  Studies say that network news conveys more stereotyped impressions – a narrower range of positive roles – for Blacks than for Whites.  Representations of Whites in network news are more varied and more positive than that of Blacks. These studies' findings raise questions about journalists' ability to represent the "reality" of Black America. The reality is that Roland Martin has represented that reality.
Black Americans need to recognize news organizations are businesses, and that they can alter the field with their eyes and ears by tuning into Black programming. The more people who watch, Washington Watch, the higher TV One's ratings will soar and the higher Roland Martin's chances will be of making the same, or more money, than he did with CNN.
Written By William Reed
Official website; http://BaileyGroup.org