Mike Rice; NCAA is Complicit in Allowing Coach to Abuse His Players.
(ThyBlackMan.com) Mike Rice, the man who was once the basketball coach at Rutgers University, probably thought that his long list of abuses would remain behind closed doors.  But that wasn't the case after an episode of ESPN's "Outside the Lines" revealed videotaped evidence of his mistreatment of players, from throwing basketballs at their heads, to pushing them and calling them horrible names.
The first time Mike Rice's attacks were brought to the attention of his superiors, he was suspended for three games and fined $50,000.  But now, he's out the door.
Mike Rice Jr.'s actions remind me of another abusive coach from a couple of decades ago by the name of Bobby Knight.  Like Rice, Knight loved to berate his players, choke them, and play terrible mind games with them.  Similar to Mike Rice, Knight found himself on the sidelines as well.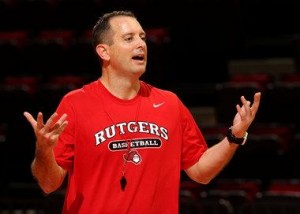 Mike Rice Jr. was paid $650,000 per year to abuse his players, and his players were only rewarded with a scholarship.   As some people know, I've long advocated for college athletes having the same labor rights as their coaches and administrators.  With the NCAA signing a 14-year, $10.8 billion dollar contract and the NCAA earning more post-season ad revenue than every professional sports league in the country, you might expect that players would be able to at least have basic workplace protections that would keep their bosses from hitting them in the face with a basketball.
Even  more directly, if there were a system that allowed players to express their grievances without the fear of being punished even further, the abuses by Rice would have been uncovered long ago.   Similar to a Chinese sweatshop, when you strip workers of nearly all labor rights and legal protections, you are basically giving the managers carte blanche to do what they want to unprotected workers.
Mike Rice Jr. isn't the only coach in America who bullies his athletes.  In my 20 years teaching at the college level, I've had athletes tell me that they couldn't prepare for my exam because they would lose their athletic scholarship for choosing to miss so-called "voluntary" practices.  I've heard players threatened with a loss of their scholarship for trying to change their major.   Rice's physical and verbal abuse stood out because it was so visually stunning, but the psychological control that coaches are allowed to have over athletes is similar to the power abusive husbands had over their wives before women were provided the legal protections that they have today.
The bottom line is that athletes deserve the rights that all workers have to protect them from bosses who want to curse them out, manipulate and beat them in the workplace.  The multi-billion dollar sweatshop otherwise known as the NCAA was complicit in laying out the conditions under which a coach felt that he had the right to harm his players and humiliate them without any form of retaliation.  Mike Rice would never expect to endure this kind of abuse from his superiors, so his players should never have had to go through this either.
Staff Writer; Dr. Boyce Watkins 
Dr. Boyce Watkins is the founder of the Your Black World Coalition.  For more information, please visit http://BoyceWatkins.com.