Social Media Training for Zeta Phi Beta Debutantes.
(ThyBlackMan.com) Zeta Phi Beta Sorority Incorporated Debutantes participated in a Social Media and Internet  Safety workshop provided by
William Jackson of My Quest To Teach.
Young ladies in high school grades 9-12 are introduced to the college experience through various workshops during the year provided by Beta Alpha Zeta Chapter of Zeta Phi Beta Sorority, Incorporated.
The Social Media workshop was designed to provide young ladies with important information on their digital presence on Social Media sites of: Facebook, Twitter, Youtube and Instagram.  In attendance were young ladies from Andrew Jackson, Jean Ribault Senior High, William M. Raines and
First Coast High Schools.
The young ladies learned numerous important facts relating to
their Social Media presence, building their Brand and how to properly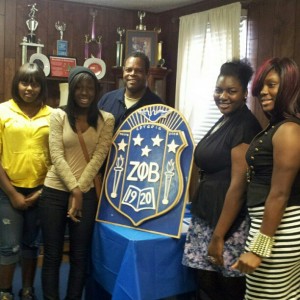 Market themselves for higher education entrance, establishing careers,
entrance into the military, social and networking organizations. They also discussed how to Blog online on sites like WordPress where Mr. Jackson Blogs and is syndicated on multiple sites online.
 
Safety is an important element because of the dangers of CyberStalking,
Cyberbullying, identity theft and other hazards that youth are experiencing the more they put content about themselves online. These important areas
were discussed and the consequences of inappropriate information in the form of photos, videos, text and even the use of video conferencing with Skype and other multimedia tools.
William Jackson is an educator of over 20 years in public education,
Blogger since 2006, presenter and Social Media speaker to organizations
and churches for youth/teens and adults focusing on safety online and
helping to build youths  Social Media presence in positive and productive
ways. Teaching in higher education with a focus on Educational Technology and implementing Social Media.
Mr. Jackson has participated in the Learn2Earn Experience with Mayor Alvin Brown teaching Social Media at UNF in summer of 2012, the Urban League Leadership Conference and Florida State Legislator Mia Jones Teen Dating And Violence Summit: Empower Yourself! and Man Up Health Summit "Social Media Dangers and Cautions in a Digital World" Florida State College at Jacksonville Advanced Technology Center just to name a few additional venues.
For more information about the Debutante Cotillion of Zeta Phi Beta contact:
Ms. Karen Britt, Chairwoman (904) 728-1287
To contact Mr. Jackson about Social Media workshops (904) 701 4957 or
WilliamDerekJackson@gmail.com
Mr. Jackson Blogs at http://WilliamDJackson.com/