"Let Him Be a Father to His Child"
(ThyBlackMan.com) A brother sent me a link to the following story   http://abcnews.go.com/GMA/video/mom-puts-daughter-adoption-fathers-permission-utah-family-17883143 and I was absolutely outraged.  I'm going to go ahead and put my disclaimer out there. This story has me so infuriated that my language will be much stronger than usual, and while I am unapologetic, I just needed to put it out there for those that will use my language to deflect from the original topic, because well….deflectors will deflect.
Basically, this Brother's ex-wife, gave their daughter up for adoption without his permission or knowledge. Ok so how in the HELL can a child be placed for adoption without the consent of the father? Why didn't this agency verify the addresses they were given? When A Black Man owes child support, the Child Support Enforcement Agency will search the ends of the earth to collect on what he owes, yet no one from the agency took the time to confirm what was reported to them?
You know why don't you? The majority believe the  highly programmed, the highly promoted, and the highly perpetuated agenda that All or Majority of Black Men don't give a damn about their child or children. This also serves as an example of how women are AUTOMATICALLY given the "victim" card, ESPECIALLY when it comes to Black Men, because of course it's the nigga that did HER wrong. This also serves as proof that a woman can concoct any story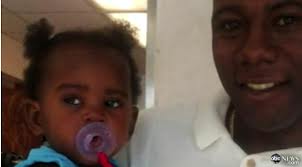 she desires about a Black Man, knowing her word will not only be uncontested, but will be used to convict and try him, before he even has a chance to open his mouth.
As I watched the clip, the tears of this woman absolutely disgusted me. She'd rather see her child with strangers than with the father. If SHE didn't want to be a MOTHER, then that's on HER, but don't deprive him of being a FATHER.
Goddammit Brothers, this is why I am always telling you to be mindful of who houses your seed. This Brother placed his future in the womb of a woman that literally held his seed hostage AND then basically kidnapped her. Now let's think about what took place in the battleground known as her womb. What thoughts did she place in the mind of her daughter? What type of seeds of resentment, anger and hatred did she direct towards the father? When she decided she wanted to adopt, she then placed the seed of rejection in her daughter.  It takes a special kind of bitter, manipulative, deceitful, vengeful type of woman to even have the THOUGHT of doing what she did, let alone bringing it into fruition.
Where is the justice in this case? A black man can get his driver's license taken away if he is in arrears on child support. A Black Man can get arrested if he is behind on child support. A black man will get his face plastered all over the internet, and billboards exposing him as a father that doesn't care, or so they will have you to think. Even after it is proven that a child is NOT HIS, in some cases he is STILL responsible for a woman's deception. How should she be held responsible? So what should be HER punishment? What will be her judgment for her lying and deliberately interfering with his right to have a relationship with his daughter? What will she be sentenced to?
She needs to be made an EXTREME example of. Her freedom needs to be compromised. Her consequences should be so severe that when women allow bitterness to be their motivation, her name alone will put fear in their hearts and immediately halt their plan.
Why did this story go under the radar? Had it been something HE did, it would have spread like a viral wildfire. All the women that are vocal on all the deadbeat dads…where was/is your voice regarding this deceptive, devilish mother? Where is your outrage? Should she not receive the same venom you keep on reserve for Black Men? Where is your facebook page full of statuses about how trifling her ass is? Where are your blogs calling her out? Where are your "she ain't shyt" shirts?  Deflection got your tongue? Why is it that you can't, won't or REFUSE to hold her accountable for HER madness, yet your sistergirl can tell you a horror story about her man, and you will be ready to flatten the tires out of a nigga you don't even know!
Let's see, one of the default responses that we keep in the arsenal for the men are "I didn't make this child by myself!" Well neither did SHE. So what gave her the right to make a decision for a child that she didn't create by herself? Women and our hypocritical ass thinking and behavior! We will be quick to tell you this is "my child", you can't tell me what to do with my child, yet turn right around and place a child support noose around your neck, for that same child that seemingly belongs only to her.
This defective "camaraderie"  among women has to stop. How can you back your Sister in WRONG, as if she is RIGHT and JUST?  Why is that we are afraid to check one another? Well you might be, but as it has been proven, I have NO FEAR, and I will call you OUT every time. I don't want to be a part of a Sisterhood that enables a victim mentality that teaches you how to use your womb as a weapon, that automatically files men in a no good file, regardless if you are no good woman or not. The type of Sisterhood that functions off of hypocrisy, those that attempt to hold men to harsh standards of accountability that they in turn avoid at all costs, even for the sake of their child or children.
So if by calling those out that are in love with our enemy, that have a PH.D(pushing heavy deflection degree), those that dodge accountability like an Olympic champion, those whose wombs are POISONOUS, and DEADLY, just a breeding ground for bitterness, by all means you don't have to kick me out, I left on my own accord. True Sisterhood is loving me enough to tell me the ugly truth, versus a beautiful lie.
As much as little girls need their father, this "woman" decided that HER bitterness superseded what her daughter needs. It is because of women like her, is why I do what I do, and why I will CONTINUE doing what I do. For everyone woman that tells not every Black Woman isn't like her, they don't know any of the woman that I speak of, they are not women in your circle, does not negate their existence, because clearly I can prove my position. Just as the saying goes, it only takes one bad seed to destroy the bunch, it only takes one tainted and corrupted womb to destroy a nation. However, what was used destroy, can also be used to RENEW.
Just call me Team Womb Renovation.
Staff Writer; Nojma Muhammad
To learn more about this talented sister, feel free to visit;
Nojma Reflects
.
Share
More Articles: