Cameron Clarke, Gets a Perfect SAT Score.
(ThyBlackMan.com) Every stereotype you might have in your mind about the black male or black kids in general need not apply to what I'm about to tell you right now.  Cameron Clarke is a senior at Germantown Academy in Philadelphia and has achieved the fabulous distinction of being one of a very small number of students to receive a perfect score on the SAT.
About 1.66 million students took the test last year, and only 360, or about 1/50th of one percent, received a perfect score.   To put it in hip-hop terms….that's gangsta.
Cameron Clarke pulled off his amazing feat on his second try.  He received a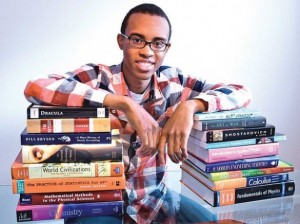 2190 the first time around, which is enough to get him into nearly any college in the country. But he wanted something more. 
So, instead of settling for his previous score, Cameron went back to the drawing board, put in long hours of practice and took the test a second time.  Now he has etched his place in among the academic immortal.
Cameron Clarke has been at Germantown since he was in preschool.  He also worked like crazy to achieve his dream.  After getting to the finish line, Cameron likely has the opportunity to attend any college in America without paying a dime.  He also seems to understand that being the smartest guy in the room is not enough.  You must also be the hardest working person in the room, since BEING THE BEST is not the same as BEING AT YOUR BEST.
I've seen a few Camerons in my day (I certainly wasn't one of them, since my SAT scores were horrible, and so were my grades).  Many of the Camerons around me didn't even know how brilliant they were.   Even a misguided soul like Lil Wayne wouldn't surprise me if he busted out a 160 IQ, since the man is flat out brilliant.   There is nothing that Cameron Clarke achieved that makes him all that different from the other kids we see in our everyday lives.  What sets him apart is not that he is brilliant and hard working.  It's that he used his brilliance and work ethic in a space that is going to give him rewards which last a life time.
Congratulations Cameron Clarke, I'm very proud of you.  I'll naively admit that I believe there is a little bit of Cameron in all of us, as long as we are not afraid to try.
Staff Writer; Dr. Boyce Watkins 
Dr. Boyce Watkins is the founder of the Your Black World Coalition.  For more information, please visit http://BoyceWatkins.com.