TJ Holmes – BET Don't Sleep! – Tonight Guests Include; Jamie Foxx & Quentin Tarantino.
(ThyBlackMan.com) BET Don't Sleep! http://bet.us/V6MIMo (——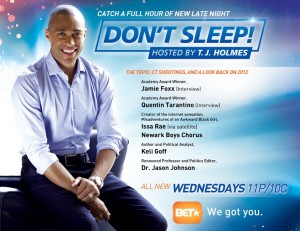 Confirmed guests for tonight;
Actor Jamie Foxx & Director Quentin Tarantino (Django Unchained Film)
Issa Rae (via satellite)
Newark Boys Chorus
Keli Goff
Dr. Jason Johnson
Also Host T.J. Holmes shall touch base on the CT shootings, and a look back on 2012.
Official website; http://bet.us/V6MIMo