About the Cisco Certified Network Associate Voice Certification.
(ThyBlackMan.com) The Cisco Certified Network Associate Voice (CCNA Voice) certification is obtained through taking the 640-461 ICOMM v8.0 exam. Once you obtain the CCNA Voice certification, you will remain certified for three years. Renewing your certification will require passing a CCNA Wireless, Security, Voice, or Service Provider Operations certification exam. Alternately, you can renew your CCNA Voice certification through passing an advanced level certification exam, such as CCIE or CCDE.
Since the Cisco CCNA Voice is an associate level certification, Cisco expects prospective technicians to have a considerable amount of skill before taking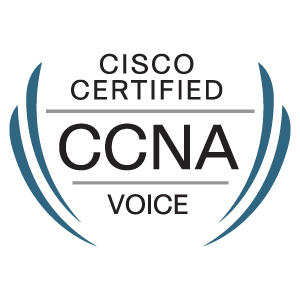 the exam. In fact, you must possess either a current Cisco CCNA or a Cisco CCIE certification before you can take the 640-461 ICOMM v8.0 certification exam. Additionally, taking advantage of Cisco's authorized training course, "Introducing Cisco Voice and Unified Communications Administration v8.0 (ICOMM)," and the exam preparation offered through TestsLive is highly recommended.
When you take the Cisco certification exam, you will be expected to be able to administer a voice network. You are required to have a mastery of many types of VoIP technologies, including but not limited to, IP PBX, IP telephony, call control, voicemail solutions, and handset. Also, if you wish to be a certified CCNA Voice technician, you will need to be able to operate the Cisco Unified Communications Manager 8.0 (CUCM), the Cisco Call Manager Express (CME), and Cisco Unity Express (CUE).
With this Cisco certification, you may hold jobs such as voice technologies administrator, voice manager, or voice engineer. Possible places of employment include governments, corporations, colleges, retail businesses, and schools.