Blue Ivy Carter, Thy future is bright..
October 23, 2012 by Staff
Filed under Uncategorized
(ThyBlackMan.com) News reports have stated that Blue Ivy Carter lives in a 2,200 square foot nursery; she was whisked away in a million dollar Mercedes minivan after leaving the hospital after her birth. Beyonce has hired six nannies, and the baby's name is trademarked with the United States Patent and Trademark Office.  In an age where popularity and money rule over social responsibility it is only wise to say: Welcome to the Throne Blue Ivy Carter.
Blue Ivy Carter was recently seen on a yacht with her parents. The child is not even five years old yet and she has traveled abroad numerous times. One can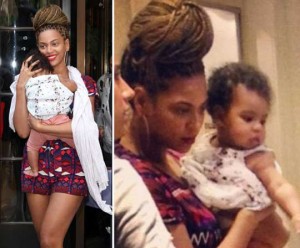 only hope that she gets what she needs emotionally as she gets older, and it looks like that she will. Blue Ivy Carter became an icon like Tom Cruise's daughter and really already has online for the world to see. The young one is already rich and does have to lift a finger and never will to do anything –if she wants to.
I often wonder what it is like for celebrity children and the shift that happens when their parents actually get back to work. Beyonce will not be taking off four years to raise this child –she will be getting back to work shortly. Blue Ivy Carter will be taken care of by family and nannies more than likely (who really knows in the life of the rich and famous). 
One thing is for sure Blue Ivy Carter is famous and has done nothing to accomplish the moniker. I hope that she will be raised to understand what it takes to be someone in society –outside of things being given to you freely. Time will only tell with this little one.
Blue Ivy Carter will more than likely turn out to look like her mother more as she gets older… Ushered into the child celebrity lifestyle and be very informed about fashion, music, and art. It seems that it happens to all of the children. Her mother wants to be white –so I wonder if Blue Ivy will want to be white as well? I am just thinking, about the child's future in so many words. It always seems to never fail in the African American community that the children of the famous are often lonely and end up losing themselves.
I think Beyonce lost herself a long time ago and I hope that doesn't happen to Blue Ivy Carter. Again, time will tell the little one's deck of cards she's been dealt. This is not a sound check.
Staff Writer; atlas brown
 
Send More Hot Ent. Tips & Gossip info to; AtlasBrown@ThyBlackMan.com