Mama Said Knock You Out.
(ThyBlackMan.com) So everyone is talking about the situation that occurred between the Brother that was driving the bus and the Sister that was a passenger, and I wanted to give my thoughts on the matter. I posted the link on both of my Facebook pages and I must say, the amount of deflection that was exhibited by some of the women that commented was almost unbelievable.
When I watched the video, my initial thoughts were just how aggressive she was towards the Brother and I thought his reaction was just. This is what happens when you become the aggressor regardless if you are male or female. In my house I had to jam my oldest daughter up because she hit her brother and said you can't hit me back because I am girl. I quickly corrected her and told her that doesn't give you or any other female who thinks like that a pass. You place your hands on a man, be prepared for the possibility that he might place his hands on you.
 
This was one of the comments left on my personal Facebook page; "He's a BYTCH! I guess men can hit girls/women — if warranted. "This type of response is typical for those that wallow in deflection. This wasn't a random incident where he just walked up to the Sister and punched her, if it was then to lay blame on him would be valid. However this is a man REACTING to someone's actions. So he's a bytch for responding to the female that hit him? What does her actions make HER? As women we are so quick to cosign, enable and pass out "victim" cards for one another. That's not the case with me; I keep a deck of "accountability cards" in my pocket. When you're wrong, you're wrong. Women wanted to talk about the effect (him hitting her) but not about the cause; her INITIAL violation of him.
Look at the language that was used. We are so quick to call Black Men out of their names, just totally disrespectful, but remain mute on the disrespectful Black Woman that was the catalyst of the situation.  As women we are VERY hypocritical, we want the errors of men center stage with a bright spotlight,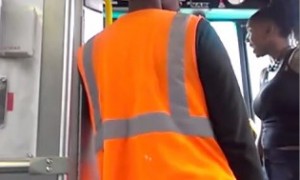 but when the light is on our madness, we are like Gizmo, yelling "Bright Light, Bright Light" as we make our way to the darkness that houses deflection, where we think our flaws, short comings, faults and superior attitudes are safe.
 
So many Sisters wanted him to handle it differently, but all of this could have been avoided if SHE would have handled herself differently in the FIRST place.
 
It also comes down to trying to test a Brother's manhood. Because of the emasculation and effeminization of the Black Man, Black Women have become more masculine in their thinking, which is reflected in their actions. Because we have been placed on this "make shift throne" we have convinced ourselves that we really do rule over men, causing us to treat and speak to them any type of way. So obviously she felt like she could "punk" him. What has she witnessed that made her think that was OK? Has she done something like this before and got away with it? Most destructive behavior is learned behavior.  We live in a society where women play the victim and in some cases are enabled to pull these kinds of stunts.
 
I also noticed comments like "he didn't have to do her like that" or that his actions weren't "justified." This is the thing, if you run up on me, you can't dictate my reaction. You touch me and I have the right to kill you. She should be happy she's still breathing. If that was my daughter I would beat her ass and make her go apologize. Don't play those big girl games if you're not ready for big girl consequences.
 
I will tell you just like I tell my son, anyone puts their hands on you, male or female, you have the right to body bag them. Many thought his reaction wasn't "fair". Again we want Black Men to just take our shyt right? Everyone has a breaking point, how much disrespect could you honestly tolerate before you retaliate? She should consider getting chin checked as mercy. This was a lesson that she had to learn the hard way.
His actions weren't fair? Really? Why is it that we always deflect back to him or men in general? What about HER actions? Were they fair? Was she justified?  If you slap me and a few days later you find yourself waking up in the hospital you can't say that's not fair I just slapped her. You will not violate me by putting your hands on me and think you can dictate my reaction to YOU putting your hands on ME. That's not how it works.
 
This incident is a viral billboard to those women who become physically aggressive towards men, and try to use "you can't hit me because I am a woman" shield. Like the Brother who was driving the bus said ""She want to be a man, I'm gonna treat you like a man." Please don't misconstrue or mistake my stance as consignment on domestic violence regarding women. The two are NOT related.  For every action there is a consequence and in this case, the consequence was a smooth uppercut.
Staff Writer; Nojma Muhammad
To learn more about this talented sister, feel free to visit;
Nojma Reflects
.