Respect Won't Buy Groceries: Hip-Hop and the Starving Underground Artist.
(ThyBlackMan.com) With the same conned and misinformed fans/Want to place the blame on everybody eatin'/Money ain't the root of evil, fool you need it/It's just power and the inner-visual and how we choose to treat it.— from "Life Sucks" by Del The Funkee Homosapien and Tame One.
Elitism drives underground hip-hop. The exclusivity connected to a small cadre of fans armed with the power to appoint the genre's vanguard is greater motivation than any pursuit of quality. Fellow snobs (backpackers) know the thrill of discovering and protecting Little Brother, Immortal Technique, Rashid Hadee, and Jean Grae . We are somehow happier that their attempts at mainstream success seemed foiled by a public too shallow to understand and fully appreciate their unique, complex, and multilayered musical poetry. The underground hip-hop fan loves nothing more than fancying themselves in the role of benefactor of a poor, struggling artist. We must remember however that a benefactor actually provides financial support.  
Rejection by the mainstream loving lambs and the abject poverty that this reaction will surely result in, keeps our favorite artists loyal and obedient to the sound that initially attracted us to them.  Now there's absolutely nothing wrong with  small intimate club dates done right while superstars are "f*#ckin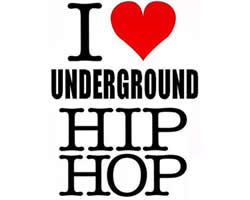 with [huge, impersonal] arenas" as immortalized in R. Kelly's track  "Fiesta." But if getting rich is the motivation, making "good" lyrically driven hip-hop is probably a poor career choice.
In the last days of North Carolina's Little Brother, the racial demographic of the fans buying tickets to their shows was probably no different than that of Scotland's Franz Ferdinand. Too much change and the 30 or so mostly white, middle class university students in that small concert venue might be halved. Although the racial reality of underground hip-hop fandom is disconcerting and disappointing on some level, were it not for those white fans we would probably have an exponentially higher occurrence of Waka Flocka Flame's than Fashawn's  drifting through the rap universe. Black art. White money. Old story.
Last year's brief manufactured beef (publicity stunt)  directed towards Drake by the veteran Common in the lead up to the release of his latest LP was indisputable proof that in the battle purportedly being waged by "hip-hop connoisseurs" against lowly "rap fans" the former stands no chance of victory. Drake fans (rightfully) ignored the "quarrel" and bought his Take Care LP and everything connected to it. Common devotees applauded his "selfless" bravery for sparking the battle, although their support largely ended at those hands joyously a clapping rather than reaching into a wallet or purse to retrieve funds to acquire the latest addition to his catalogue. As a result of this monetarily challenged show of love, support, and respect, Common's The Dreamer/The Believer LP was certified triple wood. Drake wins in one round by TKO!
It's not enough to LIKE something. President Obama's first election was driven by millions of small donations. His whole team is still hitting some of us up for as little as $3 to meet a constant midnight contribution deadline that seems to shift biweekly. Donate to the DNC just once my friend and you and your email account will become intimately familiar with many fine shades of begging aggressively deployed in an effort to completely and totally occupy your inbox through early November. If as little as three dollars has escaped your bank account to support President Obama's campaign you will know Debbie Wasserman Schultz and Patrick Gaspard  very, very well. I am in no way knocking the approach. I can respect President Obama's fundraising hustle. Closed mouths don't get fed. Anyone who has spent two hours in a Baptist church knows that the sanctuary will forever need to be repaired, revamped, remodeled, restored, redone, and refashioned. So we accept this practice in our politics and worship but can't buy a CD or be bothered to download music (legally) to prove our support for the artists we claim to love?     
Living in the past is not bad if you learn lessons from it. Once upon a time there was a notion called ghetto platinum. 100,000 LPs sold would get you there. In the late 80s and early 90s regional hip-hop artists like RBL Posse produced, composed, and distributed their own music. The greater profits generated from cutting out the middle man was the difference between a day job on the bottom of a major label roster and being owners of a successful small business. More recently, Immortal Technique touches on the benefits of independence in easily one of the harshest music industry critiques ever recorded.
Perhaps underground fans should set the bar a bit lower on the wealth meter. If we can just provide enough support to keep our favorite artists somewhere in the middle class, they'll at least be able to "provide [their] family with groceries" As Dr. Dre famously stated as a clear motivation for pursuing a music career on the track "Forgot about Dre."  Dre made $110 million last year. That should go pretty far at Kroger, Harris Teeter, and Winn Dixie.
Del made it clear in the lead quote, and there's arguably no one more underground than he, that eating is fundamental and you need money in order to do it. I still love hip-hop, but I know that the Golden Age ain't coming back. To get the situation a little closer to that bygone era, we shouldn't have a problem supporting a working artist with praise and money.
Individual track downloads are cheap. Less than two dollars. I might just take a break from responding to President Obama's latest fundraising pitch and give three bucks to Massachusetts own…Edo.G tonight. The President's latest email had a subject line that just said "hey!" I wish he had been that direct in the first debate. Decision.
Staff Writer; Christopher Keith Johnson