Big Sean, Meet the New Collaborative Rapper.
September 19, 2012 by Staff
Filed under Uncategorized
(ThyBlackMan.com) Sean Michael Anderson –aka- Big Sean does not have a long resume nor is he considered one of the best rapper's in Hip Hop (and that is really being nice). Let's just say that Big Sean has friends in high places that have helped him move up the Hip Hop ladder.
 Big Sean was born inSanta Monica,California. The 24-year old rapper got his start by putting out mixtapes and spitting on the microphone at a radio station in his neighborhood. In 2005, he received a lucky break after meeting Kanye West.
The producer asked Big Sean to spit sixteen bars and the young rapper did just that. Two years later, Kanye West signed the rapper to his label. Big Sean has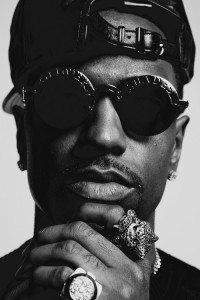 put out four mixtapes to get his name out and they have done pretty good. Again, his resume is not on so to try and stretch the truth about his talent as a rapper in the game is not easy. One thing that can be said of the rapper is that he has been on a lot of collaborations with other artists in Hip Hop which has helped out with his own success and credibility.
However, Big Sean does not have the lyrical ability or vocabulary that makes you want to go out and chant his name to the public or at a concert. He hangs with the best in Hip Hop including Jay Z, Kanye West, Chris Brown, 2 Chainz and so forth. Yet, none of their talents have rubbed off on him to deem the rapper as having a place in Hip Hop history. Indeed, he will get credit for dropping his first album, Finally Famous and his next album that is slated to drop this December. But, he will not be billed as anything else.
Big Sean has a nice following on YouTube and has a hot new single out with once again –other folks in Hip Hop entitled, CLIQUE. The track features Big Sean, Jay Z, and Kanye West. The single is going to do well, because of the two other rappers on the track to say the least. It is highly unlikely that Big Sean can hold his own as a rapper or put on a full-length concert that is worth shelling out hundreds of dollars.
Honestly, it would be good if individuals just Googled his name and listened to free tracks online by the artist. Yes, fame comes in many ways. But, it is better earned!
Staff Writer; atlas brown
 
Send More Hot Ent. Tips & Gossip info to; AtlasBrown@ThyBlackMan.com