Eminem Passed the Test!
September 10, 2012 by Staff
Filed under Uncategorized
(ThyBlackMan.com) There are many white rappers that have tried to have a fan base in Hip-Hop. To their avail they have never amassed the credo that is given to gifted rappers—except one. Marshall Bruce Mathers III –aka- Eminem passed the test in 1999, and has been on the move since he debuted his first album.  The Slim Shady Project was one of the most critically acclaimed albums at the end of the 90s era. Eminem hooked up with a popular music producer, Dr. Dre, and the rest is history.
Eminem is a Grammy winning Hip-Hop artist and hasn't had it easy climbing to the top. The rapper was born in Saint Louis, Missouri, in 1972, and grew up in an environment that many are still caught up in today. Abandoned by his father; the young artist was raised solely by his mother. Needless to say, Eminem moved away from the trenches of society and made it a point to be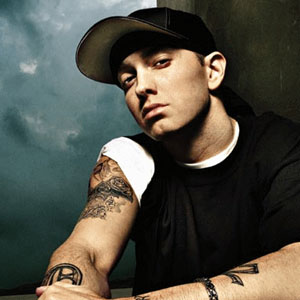 someone and have a legacy for his daughter. The artist is connected to the Hip-Hop group D-12 and is one-half of Bad Meets Evil with Royce da 5"9".
Since being in the Hip-Hop industry for over twenty years, there is one movie that new and old fan's can watch to catch a glimpse of the life that led Eminem to pen 10 albums to date entitled, 8 Mile. Though the movie is about a fictional character one can only see that Marshall Bruce Mathers III identified with the character that he portrayed in the film. Immersed into a world that represents the street hustle of all races via the microphone, Eminem's delivery, writing, and life's experiences are made for the fan that also lives and breathes culture in real time.
Rolling Stone Magazine listed Eminem as the #82 artist on its 100 Greatest Artists of All Time, he has sold over 42 million tracks, 41.5 albums in theUnited States, and 90 million worldwide. The vast majority of Eminem's work focuses on many different subject matters, and he is not one to shy away from telling the truth about it all. There is one verse that will be memorable throughout history by Eminem:
"Look, if you had one shot, one opportunity, To seize everything you ever wanted in one moment, Would you capture it or just let it slip? –Lose Yourself"
Eminem made it to the top and fell hard, the rapper got back up and made sure that he would be remembered not for glamour but for originality.
Staff Writer; LadyK
Gossip/Ent. Tips and Feedback to; LadyK@ThyBlackMan.com