"Lupe Fiasco's "Bitch Bad" yes, "I'm killin' these bitches" Too".
(ThyBlackMan.com) Ok. So because of the title and if you have read some of my prior articles, I know that you might be shocked that I approve of the message the Brother is relaying with his song. A lot of things that he says in this track are things I have said repeatedly. Let's break down the lyrics.
Verse one:
"Now imagine there's a shawty, maybe five maybe four
Ridin' 'round with his mama listening to the radio
And a song comes on and a not far off from being born
Doesn't know the difference between right and wrong
Now I ain't trying to make it too complex
But let's just say shawty has an undeveloped context
About the perception of women these days
His mama sings along and this what she says
"Niggas I'm a bad bitch, and I'm bad bitch
far above average"
And maybe other rhyming words like cabbage and savage
And baby carriage and other things that match it
Couple of things that are happenin' here
First he's relatin' the word "bitch" with his mama, comma
And because she's relatin' to herself, his most important source of help,
And mental health, he may skew respect for dishonor"
 
What do I say all the time? As Mothers we are the first teachers correct? So if our sons hear us refer to ourselves as bitches, then what will be their view of Black Women? As Lupe says "First he's relating the word bitch with his mama, comma, and because she's relating the bitch with his mama, comma and because she's relating to herself, his most important source of help, and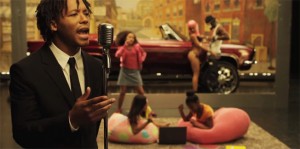 mental health, he may skew respect for dishonor."
I have had many Black Women attempt to tell me, that if a Black Man disrespects a Black Woman by calling her a bitch, then it is because his "father" taught him to disrespect women. What about the cases where there is no father in the house? Just as Fathers set the standards for their daughter, we as mothers set the tone for our daughters, so if our sons aspire to wife a bitch, maybe just maybe it's because he wants someone like his "Bad Bitch Mama".
 
Verse Two:
"Yeah, now imagine a group of little girls nine through twelve
On the internet watchin' videos listenin' to songs by themselves
It doesn't really matter if they have parental clearance
They understand the internet better than their parents
Now being the internet, the content's probably uncensored
They're young, so they're malleable and probably unmentored
A complicated combination, maybe with no relevance
Until that intelligence meets their favorite singer's preference
"Bad bitches, bad bitches, bad bitches
That's all I want and all I like in life is bad bitches, bad bitches"
Now let's say that they less concerned with him
And more with the video girl acquiescent to his whims
Ah, the plot thickens
High heels, long hair, fat booty, slim
Reality check, I'm not trippin'
They don't see a paid actress, just what makes a bad bitch"
Ok, like I do, let's bring the focus back to the woman. The little girls are watching a video, hearing the umm I can't even bring myself to say mc or rapper, so they hear the newest tool in the propaganda to keep us dumbed down  say "all I want  and all I like is bad bitches, bad bitches" and they focus on the woman in the video, that's not OFFENDED by the language, but is clearly PROUD to be the Bad Bitch in his life. So Black Woman what are we teaching our daughters? If  all a man needs is a bad bitch, and since we love calling ourselves Bitches, then our little girls strive to be even better Bitches, maybe even the "Baddest Bitch".
We wonder why our daughters deal with body images, why children in elementary schools have eating disorders, and are self-conscious about the way they look. Or on the flip side, since not only do we neglect their MENTAL diet, but physical diet as well, there are little girls whose bodies develop physically much faster than they develop mentally. I work at a school and yesterday, as I gave a nine year old a uniform to try on, I had to give her a size sixteen shirt and sixteen pants at freaking nine years old! And the pants were tight around her behind and she was pleased with herself!
I said I we have to get a bigger size, she was like no I like the way they fit, my mama says I am "thick". Now what the hell? Why is a mother telling her daughter she is "thick" to a nine year old like that's a good thing! She will get a lot of attention that mentally she won't be able to handle. This is what happens when our daughters hear us talking about our thickness, or when our grown asses refer to ourselves as "Barbz" because we just love Nicki Minaj and her madness. So if our daughters see us loving the lyrics and platform of a woman who is so in love with that blue-eyed, blond haired, doll that Mattel produced, what are we teaching them? To hate themselves! That doll is FAKE. Made in a mold, dipped in plastic, but you call yourself a "barbz" then wonder why your daughter with her beautiful skin that is as dark as the life force in our wombs, hates her "dark skin".
What I find the most fascinating is that when our children start dabbling in destructive behavior, we love feigning ignorance about where they got it from. You remember that old 80's anti drug PSA? Where the parent approaches the child, asking him where he got the drugs, and asks them who taught you this? The child responds "You ok, I learned from watching you!" Well guess what? That's how our children learn from watching US. 
 
Verse Three:
"Disclaimer: This rhymer, Lupe's not usin' bitch as a lesson
But as a psychological weapon
To set in your mind and really mess with your conceptions
Discretions, reflections, it's clever misdirection
Cause, while I was rappin' they was growin' up fast
Nobody stepped in to ever slow 'em up, gasp
Sure enough, in this little world
The little boy meets one of those little girls
And he thinks she a bad bitch and she thinks she a bad bitch
He thinks disrespectfully, she thinks of that sexually
She got the wrong idea, he don't wanna fuck her
He thinks she's bad at being a bitch like his mother
Momma never dress like that, come out the house, hot mess like that
Ass, titties, dress like that
All out to impress like that
Just like that, you see the fruit of the confusion
He caught in a reality, she caught in an illusion
Bad mean good to her, she really nice and smart
But bad mean bad to him, bitch don't play your part
But bitch still bad to her if you say it the wrong way
But she think she a bitch, what a double entendre"
 
"But bitch still bad to her if you say it the wrong way, but she think she a bitch, what a double entendre". That right there is what I deal with the most. "It's the WAY you call me a Bitch" is what I've been told. So a man can call you a bitch if he is referring to you as his ahem "woman" but if a dude just randomly calls you a bitch…..THEN it becomes a problem?  We have such a warped view of ourselves Black Woman. I love this song and the message that's in it. Like Lupe, I will keep telling you what a Bitch REALLY is, not what you have made it up to be.
Here is the hook:
"Bitch bad, woman good
Lady better, they misunderstood
You're misunderstood
Bitch bad, woman good
Lady better, greatest motherhood
(I'm killin' these bitches)"
 
I am with my Brother, and I am killing these bitches too, starting with slaying that destructive and revamped definition we like to roll with.
Staff Writer; Nojma Muhammad
To learn more about this talented sister, feel free to visit;
Nojma Reflects
.