That's Just My Baby Daddy.
(ThyBlackMan.com) I saw this photo on a friend's facebook page and I just knew I had to write an article.  I hear women talk about how trifling their baby daddy is, but my question is always but… didn't YOU choose him? I mean what's worse, the person who supposedly ain't shyt or the person CHOOSING to be with the supposedly ain't shyt person? So let me understand correctly, your baby daddy is trifling because he is irresponsible, so YOU say. Well show me where you acted in a responsible manner. As women since we carry the child, most of the responsibility is on us, and the FIRST act of being responsible is to be wise when choosing who we decide to reproduce.
What were your qualifications based on? His looks? Material possessions? What you THOUGHT he could or would do for you?  Your needs? We as women want a man to exercise discipline and responsibility after what REQUIRES discipline and responsibility has already taken place (sex).
We make the conscious decision to lay down with a bum, expect to rise with a well-made man, and then have the audacity to get upset when we rise up with the same bum we laid down with. But wait, what's worse is that we get livid with the bum!!!! Are we going to be honest about the fact that we didn't even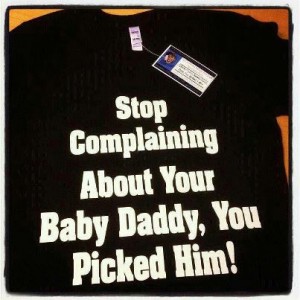 let enough time pass to see if the brother was developed in MANHOOD, before we offered our wombs and introduced him to FATHERHOOD? 
When Sisters tell me that men lack discipline because they are out here just making babies and sleeping with various women, and then I am asked where is his discipline, my answer is always "right under the cover with HERS". So you want me to condemn the REACTION (him sleeping with women) but totally negate the initial ACTION (women giving him access)? That makes no sense. Both parties need to exercise discipline. I mean really. We stand there, look him in the eyes, and slowly and seductively slip our virtue past our waistlines, then convict him because he partook in the seduction.
Sisters we have taken on every role except the one God gave to us. Instead of being "Mothers of Civilization", we'd rather be "Baby Mamas", instead of being a Goddess or a Queen, we'd rather be your "BITCH". Instead of being your wife, we'd rather be your "MISTRESS". Instead of using our wombs for "Cultivation", we'd rather use it for "MANIPULATION". We are quick to let you taste what's between our legs, but SLOW to give you a sample of our MINDS. When we as women tap into OUR Nature, our Divinity, we won't focus on making his "nature rise" but we will help him "rise into his nature" which is cultivating the God within HIM.
 We have a bad habit of trying to pass off our emotions as "logic" and swiftly place the "no good" label on his forehead. What right do I have to label him no good if I was no good to myself FIRST? I am responsible for my decisions, actions and consequences. If I commit a crime, I can't go before a judge and say but judge those no good men over there made me rob a bank. After it is proven that I acted on my own cognizance guess what? I will be sentenced accordingly. There is a HUGE difference between being forced on your back and willingly lying on your back, I can bear witness to both.
Did you know that a synonym for the word "permission" is "empowerment"? So to give a man permission to enter your womb is to give him "power". So with the power that WE have given him, he can do as he pleases, and if it his choice to exit out of our lives after he is "pleased" then so be it. You can't give a person power, then get upset because they didn't execute it in the manner that YOU wanted them to. 
Besides the "Independent Woman Syndrome", and the "Strong Black Woman Syndrome" there is another epidemic running rampant in our community and it's a little something I call CPS (Careless Procreation Syndrome). 
This occurs when we don't grasp the understanding that our reproductive organs are primarily for REPRODUCTION. We instead turn "procreation" into "recreation". You're not laying down with a man because he is your husband and you want to give him an extension of himself, you're lying down with him because it feels good, or because you think the key to an already broken relationship is a child, or because you yourself don't fully understand the power of your womb.
So after we characterize the man WE chose trifling, and get upset with him for not being responsible our next plan of action or revenge is to go to the child support office. I saw following written in article and I found it interesting and very telling:
"Not a single cent is to be allocated to help non-custodial fathers hire attorneys to enforce their visitation orders in court. Not a cent. Mothers who want help collecting child support have a free lawyer to represent them in court – the attorney general of the state she lives in. She's got all the power of the state plus billions of dollars from the federal government at her beck and call at no cost to her. But the same federal government that spends billions every year in legal fees and administrative costs for custodial mothers, spends not a cent for father who want to see their kids. Most parents who divorce do so without a lawyer. That's because they can't afford one. Well, that continues to be true post-divorce, but if Mom wants help with child support, she gets it in spades. Dad? He's on his own. If Mom prevents him from seeing his kid, it's up to him to hire a lawyer. Gender equality anyone?"
You know why women constantly run to this system? Because it is the only place (outside of the Bitter Mama Ministries Revivals) that a woman is not only REWARDED for HER bad decisions but is encouraged and enabled to make more! This type of madness promotes the "victim syndrome" among women. Why would a woman hold herself accountable if the "system" doesn't?
 Sisters I keep telling you it's nice to SAY that you are the Mothers of Civilization but it's even better to MEAN it and put it into practice. Claim ALL your children. Stop letting CPS make you leave your children unattended, reckless, hating their father, hating you, hating themselves, and most importantly leading them to undervalue the sacred parts of themselves. 
So yes…that's YOUR child's father. Keyword here is "your". You chose him for whatever reason. So the next time you talk about how trifling your baby daddy is to your child, be prepared to HONESTLY answer the question "then why did you chose him Mommy?" Be a "woman about yours" and own up to YOUR CHOICE.
Maybe one day we can stop referring to men as "my baby daddy" and introduce him as "my husband" and this is our child________. Maybe….one day. 
Staff Writer; Nojma Muhammad
To learn more about this talented sister, feel free to visit;
Nojma Reflects
.