Detroit Pistons, Greg Monore Next Great Center?
(ThyBlackMan.com) It's no secret that there are lack of star-studded centers that currently reside in the NBA.
Detroit Pistons center Greg Monroe could possibly rise in the ranks as one of the big men and talents in the NBA in the near future.
Greg Monore at 6'11" and 250 pounds, often uses his body frame to initiate contact to score and can finish at the rim.
His post moves are at a multiple set, and if he can learn to use them at a dominant pace, he can be the best true scoring center in the league in due time.
Last season, Greg Monore averaged 15.7 points per game, 9.7 rebounds per game and shot 52.1 percent from the field.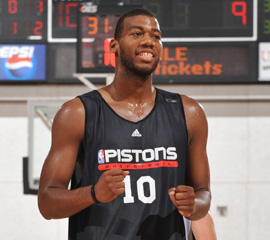 He's also a 73.9 percent free-throw shooter, which is very good for a center.
The tremendous thing about Greg Monroe is that he has yet to reach his ceiling.
He has tremendous size and can score in a variety of ways whether it's low post moves or a jump shot on the block.
Greg Monore also has an underrated passing game to match with his scoring abilities
But the downfall to all of these attributes, is his lack of defense. He only averaged 0.6 blocks per game in 2011 and 0.7 in 2012.
Improving his defensive game as well as being a double-digit rebounder could make him considered as a top center.
Finish Story over at;
http://bleacherreport.com/articles/1283453-detroit-pistons-is-greg-monore-the-next-star-center-in-the-nba#comments
Staff Writer; Brad Washington 
Also connect with this brother through Twitter; http://twitter.com/theGURO15.