Alabama vs. Michigan 2012 Show Down.
(ThyBlackMan.com) The Alabama Crimson Tide are fresh off its second national title win in three years with a victory over LSU.
The Michigan Wolverines will face the defending champions September 1 in Arlington, Texas and to the majority across the nation, the odds are against them. Or is there a light at the end of the tunnel for Michigan?
The Crimson Tide are the juggernaut of the SEC and college football. Their defenses since the Nick Saban era have always been top-notch and produced a number of NFL talents.
Michigan had a program revival year last season, after three years of subpar seasons under former head coach Rich Rodriguez and five years since its last BCS berth.
Many scoff at the matchup, particularly because it's another SEC-Big Ten matchup. Another SEC-Big Ten game, another dreaded debate about "can the Big Ten compete?"
To answer that question, it's possible that the Big Ten can. It just depends on which offense you face.
The most common opinion on the Big Ten is that it's too slow to compete against faster teams. Predominantly, the SEC.
But if a Big Ten team, particularly Michigan, wants a chance to beat the SEC, it all starts with a precise gameplan to come out attacking on offense.
Ohio State beat Arkansas in the 2011 Sugar Bowl because it matched Arkansas offensively and contained and slowed down the Arkansas offense when it could on the defensive side.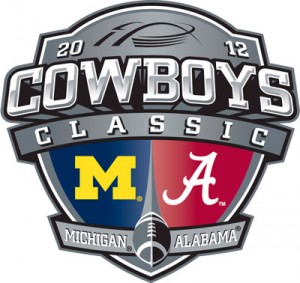 Evidently for Michigan, Arkansas offense is not comparable to Alabama's of this year in terms of pro style and being physical.
Containing a ball-control team is extremely hard, especially with a stout defense from top to bottom. Michigan, from the start of the first to the end of fourth, will have its hands full.
On initial glance, Alabama's speed on the offensive side of the ball is far and beyond unmatched by Michigan's Defense.
Alabama has speed and power at the receiving/rushing ends and on the offensive line, respectively.
Alabama plays a ball-control style similar to the Baltimore Ravens: Run-heavy, but the quarterback has more freedom to throw the ball while maintaining a turnover-free approach.
It's their 11 on offense versus Michigan's eleven on defense, and if executed right, they could easily wear down and overpower the Wolverines quickly.
Alabama running back Eddie Lacy has been paying his "40 back" dues as Mark Ingram and Trent Richardson did before him.
His downhill running style will be difficult for Michigan to adapt to, as Alabama will be as physical as possible.
On defense, Alabama should have one primary goal: Attack Denard Robinson.
The past two years Alabama has played Penn State, its quarterbacks have completed 25 out of 69 pass attempts, for a completion percentage of 36.2 and zero touchdowns.
Finish Story over at;
http://bleacherreport.com/articles/1278900-2012-alabama-versus-michigan-a-preview-of-the-sec-vs-big-ten-showdown
Staff Writer; Brad Washington 
Also connect with this brother through Twitter; http://twitter.com/theGURO15.