'Undisputed Truth' Mike Tyson's Broadway Debut.
(ThyBlackMan.com) Re-inventing Mike Tyson will never work. The genius behind 'Undisputed Truth' lies in its uncut format, exploring all that intrigues us about Tyson. Starring on Broadway, for $75 bucks, former Heavyweight Champion Mike Tyson takes on his hardest opponent.
Himself.
This one man show was a brainchild of his current wife Lakiha Tyson, after seeing Chazz Palminteri's show 'A Bronx Tale' in Las Vegas. Writing a script, casting Mike Tyson and playing at the MGM Grand Hotel in April, gave 'Undisputed' legs to run on Broadway. Lakiha says " Mike was an easy sell, he really dove into his character." 
Picking up Academy award nominated director Spike Lee didn't hurt either.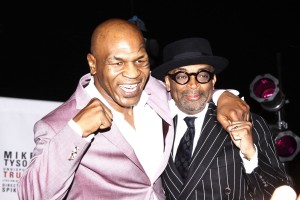 Spike Lee says "It's a great American story; we had to bring it to Broadway." So here onstage, audiences prepare for Mike Tyson in rare form. No knockouts or split decisions. No police blotter or prison cells. In fact, it's no trouble  whatsoever.
All summer, 'Undisputed Truth' played to a packed house at the Longacre Theatre in NYC. Its last night approaches on August 12th and Mike Tyson deserves an encore ovation. The show is unique, funny and tragically remarkable.
Especially during Act III when Mike Tyson goes into his charades about Holyfield and other fighters, letting us deep inside a fighters mentality. Sometimes it's hard to tell if Mike is pulling our leg, leading us into a dead end tale, or mesmerizing us with humor. Audiences are routinely on the edge of their chairs, shamelessly laughing the night away, forgetting such a violent man was before us.  Seeing 'Undisputed Truth' firsthand, I couldn't believe it's a former Heavyweight Champ onstage.
From poking fun of himself in 'Hangover' Movies to starring in a one man show, Mike Tyson is silently building a performance resume worth envying. The point of this show, he said, is that it is not an act. "I played Iron Mike Tyson," he said. "I'm a great actor."
In the meantime, he's also changing his demeanor… one show at a time.
Staff Writer; Deigo Mack