Mr. Obama's Reelection Is Hanging By A Thread.
(ThyBlackMan.com) Where are the supporters of Mr. Obama when he needs them the most? If the unemployment numbers come in as I anticipate in July, showing an increase, for June, Mr. Obama is in serious trouble as his chances of reelection slip away from him. There is a high possibility the rate of national unemployment will remain at 8.2%, however that does him no good, because the question of his demise is just pushed down the road to the next thirty day report. What is the logical course of action, for an ardent supporter of the President? The obvious course is not to ignore the obvious.
This President needs to make some changes and he needs to make them sooner, rather than later. There can be many possibilities why these numbers may not come in positively for the Presidential reelection committee, but there are only two answers to remedy or fix the problem. Either the unemployment numbers have to physically change and begin trending downward or the voter's perception of the numbers has to be altered in a positive way, favorable to Mr. Obama.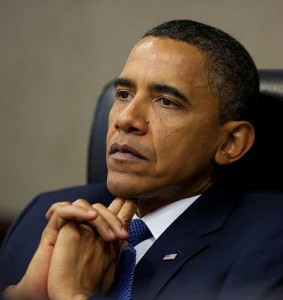 Among the possibilities for the President, is to clean house. He could fire his economic advisors, as has been previously advised by some. However, those moves, while looking as if he is doing something to stave off increasing unemployment, are meaningless unless the new team comes up with a plausible and detailed job creation plan. On the other hand, the President can keep the old team he has and have them address the unemployment problem with new and fresh remedies. Here is what this President should not do. He should not blame the Republicans because he has had three and half years to get the unemployment numbers to trend in the right direction. It will just not wash, with the American voter. That is what I meant when I said do not ignore the obvious.
He should not blame the lack of movement in getting his legislation passed in Congress as the problem because the American voter has not wholly brought into his methods of resolving the unemployment problem. He and Mr. Romney are in a virtual tie, but the unemployment numbers, trending upward or remaining the same are guaranteed to be positive for Mr. Romney.
I have for more than a year been suggesting this President and his team should have spent more time coming up with a job creation plan rather than attempting to frame the subject of the political debate of this election as rich versus poor. The American taxpayer is more interested in finding jobs for themselves and their children, than what Warren Buffett pays in taxes. Solve that problem first, and his reelection is likely. I often felt like the "Aflac duck" in that commercial about supplemental insurance, except
I was not running around yelling about insurance but the need of this Administration to adopt a detailed and doable job creation plan.
So what is an ardent supporter of Mr. Obama to do? Why not join me? I am not a Republican and do not see my best interest being served by Mr. Romney. If the national unemployment rate comes in even or at an increase, here is what I am going to do. I am going to take action and e-mail a copy of the Davis Job
Creation Plan to every state Democratic Party Chairperson and ask them to vet and consider it as a job creation plan the Democratic Party can endorse, and embrace. Why the Democratic Party Chairpersons? They are more likely to answer your e-mail.
You can find them at the following e-mail address: http://www.democrats.org/ Once there, press the "about" button, select "demons in your state" than on that page go to the "pick a different state" box button and get the e-mail addresses of state party chairpersons. You say why not send e-mails directly to Mr. Obama or Debbie Wasserman Schultz, DNC Nation Chairperson? You could do that also. Well, do you want to see this President reelected? You have to also take action and literally take action now. Time is running out. It's relatively simple.
As I said before, there are only two answers, either the unemployment numbers have to physically change and begin trending downward or the voter's perception of the numbers has to be altered. A doable job creation plan will affect the trend and turn the numbers around. Go to http://www.sslumpsum.com, for such a plan. Copy and paste the Davis Plan. Two to three hundred such e-mails will make a different. I ask again, where are the supporters of Mr. Obama, when he needs them the most?
Staff Writer; James Davis
More information about JD and his Deficit Neutral Stimulus Plan Can be founded at http://www.sslumpsum.com.