Chris Brown, Drake beef not Rihanna fault.
(ThyBlackMan.com) s you've probably heard, since the story has been everywhere from gossip blogs to major news outlets, R&B bad boy Chris Brown and rapper Drake got into a bottle-hurling brawl last Wednesday at a New York nightclub. There are seemingly hundreds of conflicting reports and wholesale exaggerations online describing what happened. ABC News reported Brown and Drake had a longstanding "beef" because they both dated pop star Rihanna.
Reportedly, Brown sent over a bottle of champagne to Drake as a peace offering of sorts, and somehow this offended Drake, who allegedly sent the bottle back with a note that said "I'm f*****g the love of your life, deal with it."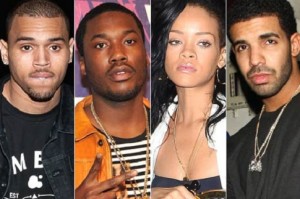 Then a member of Drake's entourage reportedly did his best Evelyn from Basketball Wives impression and hurled a bottle of champagne at Brown. All hell broke loose with bottles and glass flying like dollar bills at a strip club.  
At least five people had non-life-threatening injuries, including a model who recounted a similar version of events for the NY Post. (NBA star Tony Parker was also injured in the melee. He has cornea damage from the flying glass.) Brown took to Twitter in the wee hours to post a post-club picture that showed a gash in his chin. Via his publicist, he says he was the "victim" here. Drake's publicist says he "did not participate in any wrongdoing of any kind…"
Finish story over at; Essence – Rihanna/Chris Brown – Drake Club fight.
Also follow Essence on Twitter; http://www.facebook.com/EssenceMag.
and Facebook; http://www.facebook.com/Essence.