Yes Marriage: What It Is and What it Isn't.
(ThyBlackMan.com) Last night my husband and I began watching a movie called The Marriage Chronicles. We didn't finish the TV film and instead opted to watch the fairytale beginning of our own love story instead. But as the love/tv/blog gods would have it when I came home from work the movie was on and it was right where we'd left off.
To give you an idea the movie stars a who's who of Black actors and actresses some you remember well some you only recognize. The film is a cross between Tyler Perry's Why Did I Get Married? (the first one only) and Soul Food the series. The plot develops around three couples. Before I learned their names I paired them as follows:
Maneater, Good Man
Pleaser, Player
Stepford Wife, Traditional Man
The couples are all married and all looking for help to try and save their marriages. The couples look to a married couple. Both Doctors specializing in marriage counseling. The Doctors lock the couples away for three days at a lavish country estate and force them to face their issues.
This film comes at a time when Black men and Black women's rate of marriage continues to be a popular topic of discourse. The story follows three couple archetypes, peppers them with stereotype — sometimes for humor, sometimes for hyperbolic self examination — and fleshes them out in a way that made me dictate notable quotables on my iPad as I watched the film.
Some of the memorable quotes included:
"Marriages fail because couples fail to prepare" ~Mrs. Doctor
"75% of marriages are bad. 50% end in divorce. Another 25% stay in what I like to call the three degrees of hell." ~Mrs. Doctor
"Family is everything." ~ Traditional Man
"Marriage isn't an I do on Saturday and I won't on Sunday six months later" ~ Mrs. Doctor
"Closed mouths don't get fed." ~Mrs. Doctor
"All the good men trying to find a good woman but can't because they're with all the dogs." ~R&B Singer Cameo
"Be a wife first and then worry about your happiness." ~Traditional Man
"Are you a wife or a jumpoff with a ring?" ~Cameo by Vivica Fox
"Only you can change you." ~Mrs. Doctor
"If you grow into these new fancy things I'm afraid you will leave me behind." ~Traditional Man
These quotes resonated with me because I could see the truth in the lines delivered. "Ethel" (Traditional Man) was portrayed as an ignorant country bumpkin who was so tied to the Bible and traditionalist ways of running a household his character spouted  out the stereotypical truths in the ways men see marriage. But his contrived truths were delivered in the way that illustrated vulnerability in the thought process most women deem old fashioned and idiotic.
When my husband and I were choosing the scriptures to be read during our wedding I was all for the "rules of marriage" explained in the bible. I wanted to be traditional.
"…Wives should be submissive to their husbands as if to the Lord because the husband is head of his wife as Christ is head of his body the church, as well as its savior. As the church submits to Christ, so wives should submit to their husbands in everything. Husbands, love your wives as Christ loved the church… Husbands should love their wives as they do their bodies. He who loves his wife loves himself."
~Ephesians 5:2a, 21-33
I don't have a problem with the "traditional" role of a woman. My husband and I joke I'm supposed to do as he says and I counter he's supposed to love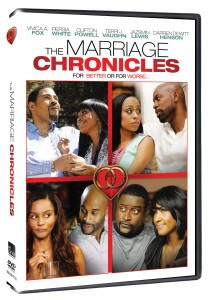 me as Christ loved the church. As long as we have balance I have no qualms.
The film highlights the uneven balance between husbands and wives according to these rules. Too much yang and not enough yin. When in reality marriage is a partnership; a commitment, an investment. This element is missing between the couples in the film and in discussions on marriage across the Black blogosphere.
Two articles I've come across within a week on a popular site for women have sent commenters into fits about the roles of women and men in marriage. The first on why Black men aren't getting married (to counter the sordid saga of why Black women aren't married).
The second on should women still serve their men. In these discussions the whole point of marriage is lost to talking points of women's independence, feminism and emasculation.
My husband and I in our three year relationship and three weeks of marriage decided "marriage is what you make it." It's not solely an institution to foster healthy, well adjusted and more economically advantageous children as researchers subscribing to the Dan Quayle philosophy would have you believe. The institution is not antiquated compared to new forms of relationships that last decades but are not sanctioned by law; gay or straight. The institution of marriage is a jump in the deep end, as illustrated by the couple Sabel and David (Maneater, Good Man) in the film The Marriage Chronicles. In the scene David is handcuffed by Dr. Masters (Mrs. Doctor) and thrown into a pool. A trust exercise, Sabel is supposed to go in after him and save him. She doesn't. She looks around for someone else to do so citing she can't swim. When David finally gets out of the pool after rescuing himself he lets it be known his wife was on the swim team and in fact could have saved him.
Trust, love, respect, faith, hope, honesty, understanding, will and determination are the ingredients for a good, long and happy marriage. Characteristics many of the couples in the film lack but some regain by the time the credits roll. They are the ingredients your elders advise you on in the days, hours, minutes and moments before you walk down the aisle and say "I do." The advice a father who is not perfect gives in an emotional speech at the reception. The words of wisdom you remember when you look at your partner and don't like them but still love them beyond reason.
These ingredients and characteristics are not just the tools to make your marriage what you want it to be. They are the elements required I believe to make your marriage transcend what you ever dreamed it could be. It is the difference between fun and joy, dreams and vision, fairytales and real-life happy endings that may not end with cursive script spelling out Happily Ever After, but there is happiness none-the-less. These ingredients not only bind a husband to his wife as they become one. These ingredients are in fact the songs in the key of life.
Staff Writer; Nikesha Leeper
To connect with this sister feel free to visit; Change Comes Slow.