George Clooney, The cost to rent a Negro leader?
(ThyBlackMan.com) Did you see George Clooney getting arrested in front of the Sudanese Embassy in Washington, D.C.? The Hollywood activist brought his "A-Team" for the latest demonization of the Islamic government of the Republic of Sudan.
The staged sidewalk show featured George Clooney's father Nick, civil rights leaders Martin Luther King III, NAACP President Ben Jealous, and actor and comedian Dick Gregory. The staged protest also included veteran "anti-Sudan" activists Rep. Al Green from Houston, Massachusetts Reps. James McGovern and John Oliver, and Rep. Jim Moran of Virginia.
How Martin Luther King III allowed himself to be cast as a bit player in the show is questionable. But participants such as Green look at his role and arrest like a badge of honor. In an interview with the Houston Chronicle, Green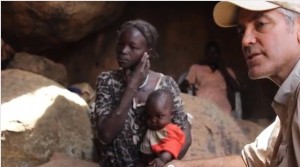 lauded George Clooney for "shining a spotlight on turmoil in Sudan." Dazzled by the star-and-celebrity-power around him, Green said, "Actions like these to prevent humanitarian crises usually start with one person, and [ George Clooney ] has been that one person."
Cause 'champions'
Fred Kramer, executive director of Jewish World Watch and George Clooney's cellmate, said "It was dignified, an incredible array of activists and champions for the issue." Kramer is a part of a Washington lobby that's comprised of a collection of groups that has provided ongoing opposition to Sudan's Islamic government. And Green can't help but gush because he's a part of such a superbly creative visual extravaganza designed to demonize the Sudan government.
The protest had the legendary King name but many of us doubt that Martin, the father, would have placed his credibility among such a lot. Anti-Sudan activists have misled the American public on Sudan for decades and the spectacle in front of the Sudan Embassy was an endorsement of the rebels the Americans support in southern and eastern regions of Sudan.
The record over past decades shows that America's imperialist policies have supported separatist movements in the south of Sudan, particularly in areas where oil was found. U.S. intervention on the side of rebel forces during the long civil war is long and permanent. Forces such as George Clooney and his colleagues caused the division of Africa's largest country into the oil-rich South and the diminished North.
The cause of George Clooney and cohorts is "regime change." The charade's current origins date back to 2002, when Christian Solidarity International (CSI), paid $50 each to buy back 400 Sudanese men, women and children from "Arab slave traders." The Sudan campaigns reek with imperialism and buffoonery and much care should be taken before one casts their lot with them.
Media events
George Clooney is no friend of these Africans and there's no evidence that he's done anything to positively affect the lives of people on the ground in Sudan. They spent millions to pass "Save Darfur" legislation and have made smashing the Sudanese an American cottage industry.
These "slam Sudan" activists have manufactured media events and stories that distorted situations in the region. In 2006, George Clooney made a TV special called "A Journey to Darfur." In 2011, George Clooney co-wrote a Washington Post Op-Ed titled "Dancing with a dictator in Sudan," in which he encouraged diplomatic isolation of the Sudan regime and freezing of targeted accounts and transactions of senior officials.
'Deceit' brought division
A critical look reveals these campaigns to be rife with imperialist policies and practices that further demonize Arab and Muslim people. It was through what Louis Farrakhan calls "deceitful practices" that these activists successfully brought about the division of Sudan. People like Green in Congress need to be less parochial and move toward the constructive engagement we need to pursue with the country and people of Sudan, not tell new lies that advocate the overthrow of the Sudanese government.
Unfortunately, the family of Martin Luther King Jr. has done plenty over the last decades to tarnish his legacy. Marty sullied his father's image and legacy for a speaker fee, travel, and lodging to be a bit player in "The Clooney Show."
Written By William Reed
Mr. Reed William Reed is available for speaking/seminar projects via; BaileyGroup.org.