Bobbi Kristina, OWN Network Oprah Interview.
(ThyBlackMan.com) Last night Oprah Winfrey reminded us why she is the "Queen of Talk" with the first interview with Whitney Houston's daughter Bobbi Kristina, her manager/sister-in-law/friend Pat Houston, and her brother Gary, just a month after her untimely passing. For OWN, the Oprah Winfrey Network, the interview was a huge score, and could not have come at a better time.
It's no secret that Oprah's network has failed to register as must-watch TV. Reports have been steady about OWN failing to attract more viewers than Discovery Health, the network it replaced. In an effort to correct this, there's been a lot of turnover, most notably the dismissal of Christina Norman in May 2011 as OWN CEO, just months after OWN launched.
Although Norman, one of television's highest-ranking female executives at the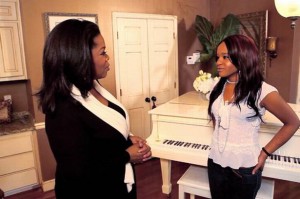 time of her OWN hiring and, outside of Oprah, arguably the then-highest-ranking African-American woman behind-the-scenes in television, is credited with VH1's miraculous turn-around, she could not bring that magic to OWN.
OWN's failure to attract viewership led to a surprising December Adweek article about a possible re-focusing of the network to target African-American viewers in the wake of the network's ratings success with Welcome to Sweetie Pies, a reality show about one of Ike and Tina Turner's former back-up singers, Miss Robbie Montgomery, turned soul food queen in St. Louis.
Since Oprah has largely made her fortune by catering to the 'everywoman,' which has generated some criticism that she did so at the expense of African-Americans, this development was indeed eyebrow-raising.
Finish story over at; TheGrio – Bobbi Kristina Interview, etc.
Also follow TheGrio on Twitter; http://Twitter.com/TheGrio.
and Facebook; http://www.facebook.com/theGrio.