How Your Image is Affecting Your Business.
(ThyBlackMan.com) Often times as business owners (and even professionals) we can be so focused on getting the job done that we don't bother to take a long hard look in the mirror.  While the job may be well done, you can be unfairly judged because you did not become the total package to execute this project.  This lack of preparation or knowledge can result in less opportunity because you were less polished, truly less professional or simply did not walk into the project (or interview) looking the part.
Image is a 3-fold process that needs to be dissected-so lets go.
First of all there is your visual image.  People see that coming, going and when they interact with you.  Some basic "Screw-up 101's" include: a sloppy appearance, hair that distracts from the job at hand and poor hygiene.  You may be good at what you do but you will not get referrals. 
Then there is the communications aspect of your image.  How do you speak, project and effectively communicate with others?  Listen to yourself, figure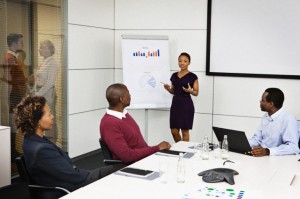 out who your friends are and pay attention to media.  Who do you sound like?  While you always want to remain true to yourself, you do not want to lose business because you have a Subject, Verb, Adjective issue.
Poorly thought out collateral and other media missteps!  This will stop people from doing business with you before you even meet them-because they have heard of you and HEARD OF YOU!
You can come highly recommended, but when these issues arise-we have to tackle them!  Here are a few quickie ways to "come more correct!"
Let's hit the visual.  Make sure that you have a full length mirror.  It is a required investment-that is all.  Daily you need to ask yourself, "Who do I want to be today?"  While professionalism is key in all aspects of your life, going to Curves requires less attention than a meeting with a potential investor-so plan accordingly. 
Think about your industry of business, the colleagues and mentors that you respect and imagine what they are wearing in this instance.  If you are looking to score a contract with the city make sure that your suit is black and fits well.  Make sure that your shoes are shined, not run over and for women no more than 2.5 inches.  Make sure that your hair is NOT going to be a talking point.  Be wearing a watch.  While there is MORE to the full image consult-these are some basics to tide you over!
Next, how are you communicating with others in person?  Belly to belly is and always will be an important way to do business.  While we have come a long way in social media, people DO still sit at tables and sign contracts.  Make sure that you have good eye communication, speak English in a way that other people can understand, be pleasant and authentic.  Never use profanity.  If you are noticing a distinctly different way that you and your colleagues speak-take note.  This could be stopping you from elevating.
BAD MEDIA.  This is a pet peeve of mine.  From grease-stained business cards to cell phones with ring-back tones.  Business is not personal and nobody cares that "Off the Wall" is your favorite single.  But now a potential client MAY have preconceived notions about you.  Your twitter, FB and LinkedIn are professional extensions of who you are.  And when you have the opportunity-get the highest quality collateral for brochures, flyers and banners.  This is business communication not a flyer to your college frat party.  But when those flyers look more professional than yours-check yourself!
Get Your Business Polishing Consulatation!…Call our Offices Now!
Staff Writer; Sharelle D. Lowery
Her Team at Classy, BlackGirl takes the Urban Business and Upgrades It!..so that YOU can do business equally in the playing field!  Contact them at 510-414-2369 Direct or online at http://www.ClassyBlackGirl.com